Jill is an estimated 8 year old black female. Jill, along with Denny, was dumped on rural property in Wharton, TX. They were tracked for about a week and were finally trapped by caring rescue individuals from the Houston area. Jill and Denny appear to be bonded, and it is thought they are mother and son. Both are very anemic and unfortunately heartworm positive. Treatment will begin as soon as a foster home is found. Jill is cat tolerant.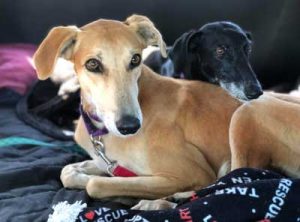 Jill has a special angel in the Blazer's Guardian Angels program: Slate FKA GALT's Corpus. For more information about this wonderful program, please click here.
Jill is petite and quiet. She will follow along with her more boisterous foster brothers; yet with her humans, she is quiet and calm. She enjoys walks and will study all the smells. She can go for long or short walks, and will always want a little extra time for each smell. She's been great in my work-from-home office as she's not needy and doesn't need a lot of play. She is never disruptive and lets me know when she wants to go out, and she will come up for a scritch under the chin.
At night, Jill's always by my feet when I'm reading or knitting or just watching a bit of telly. She can be startled by sudden noises (thank you, cats!), so a calm house would suit her best. She's more forgiving of active and loud dogs than humans; yet somehow a vacuum cleaner is not an issue. If she's not by our feet, she's on a bed where she can look at us. If she needs peace, she will take herself to a bedroom. After some time away, she'll bring herself back. She's independent and can be shy, you can count on her to take care of what she needs.
Jill's love language is presence. She's not a wild wiggler or jumpy dog. She loves being pet and will not move, lest you stop. She's quiet and not demanding. She's a funny girl. When I go out and come back, she's visibly excited. As soon as I match that by wiggling myself, it is as though she catches herself and reminds herself that she's cool and calm. Every day she shows more of the silly side, however she likes to think she's elegant and regal.
Jill has sweet habits – she whines to be let out or to wake me up; will howl at sirens; while thunderstorms aren't fun, she just shivers a bit. This silly girl will find a pill no matter how many pieces I cut it up in and how much yummy canned food slop I drown it in, so sadly, I have to pill her. I break them up into quarters, soften the edges, and smear with something tasty. Okay – it's her only flaw.
Above all, Jill is a lady of gentle birth and excels in manners. She is good with cats and dogs of various sizes.