Wiley's Angels Matching Fund
Please Help!!
Our Progress Towards $10,000 in matching funds:

85%

85%
$8,553 raised of $10,000 in matching funds!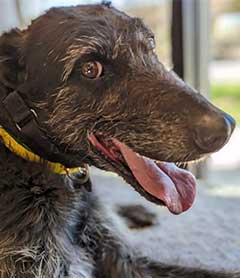 On March 18, GALT took in Paddy, a stray from Wharton, and four coyote hunter hounds — Wiley, Cliff, Acme and Beep. Unfortunately, Wiley was in very poor health and traveled to the Rainbow Bridge the following day, surrounded by several loving GALT volunteers. Two generous donors have pledged $10K for the Wiley's Angels Matching Fund, in loving memory of Wiley and other GALT strays who left GALT too soon. This new GALT fund will help cover medical expenses for the strays currently in GALT's care, via donations to our existing Angel's Strays Fund. All donations to the Angel's Strays Fund between now and March 31st will be matched up to a total of $10K. Won't you consider making a donation to honor Wiley's memory and help his hound friends?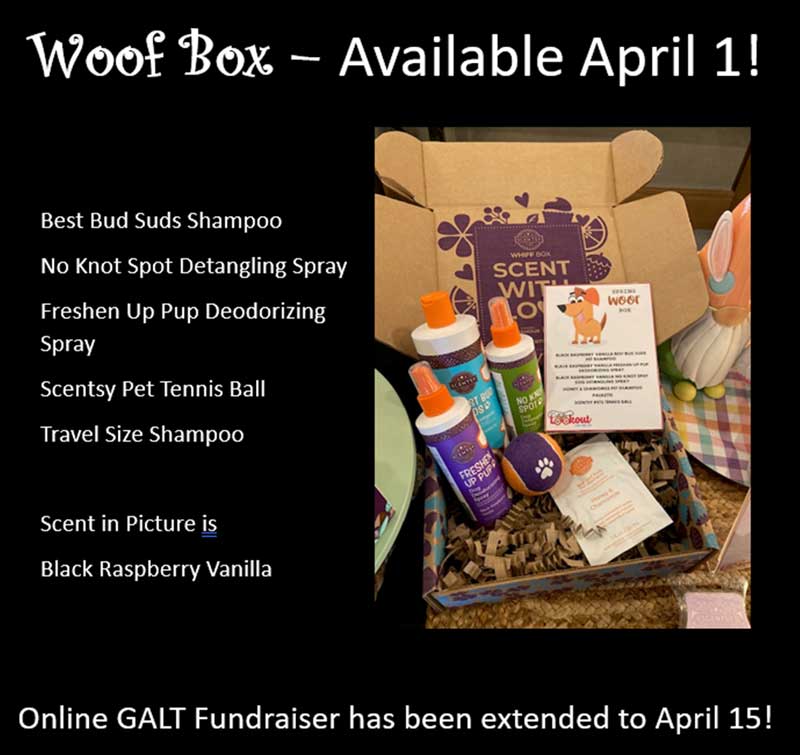 Online Scentsy Fundraiser!
We're having an Online Scentsy Fundraiser to hep the hounds and we hope you'll join us. You have two ways to place orders:
Three party orders will be placed for those in DFW to save on shipping – March 17th, March 28th, and April 14th. Email Sara Ramadan to place your order; or

Click the 

party link

 and have your order shipped directly to you.
Questions? Email Sara Ramadan at sarajramadan@gmail.com.
GALT's 22nd Birthday Party
Sunday, April 30, 2023
Doubletree Ranch Park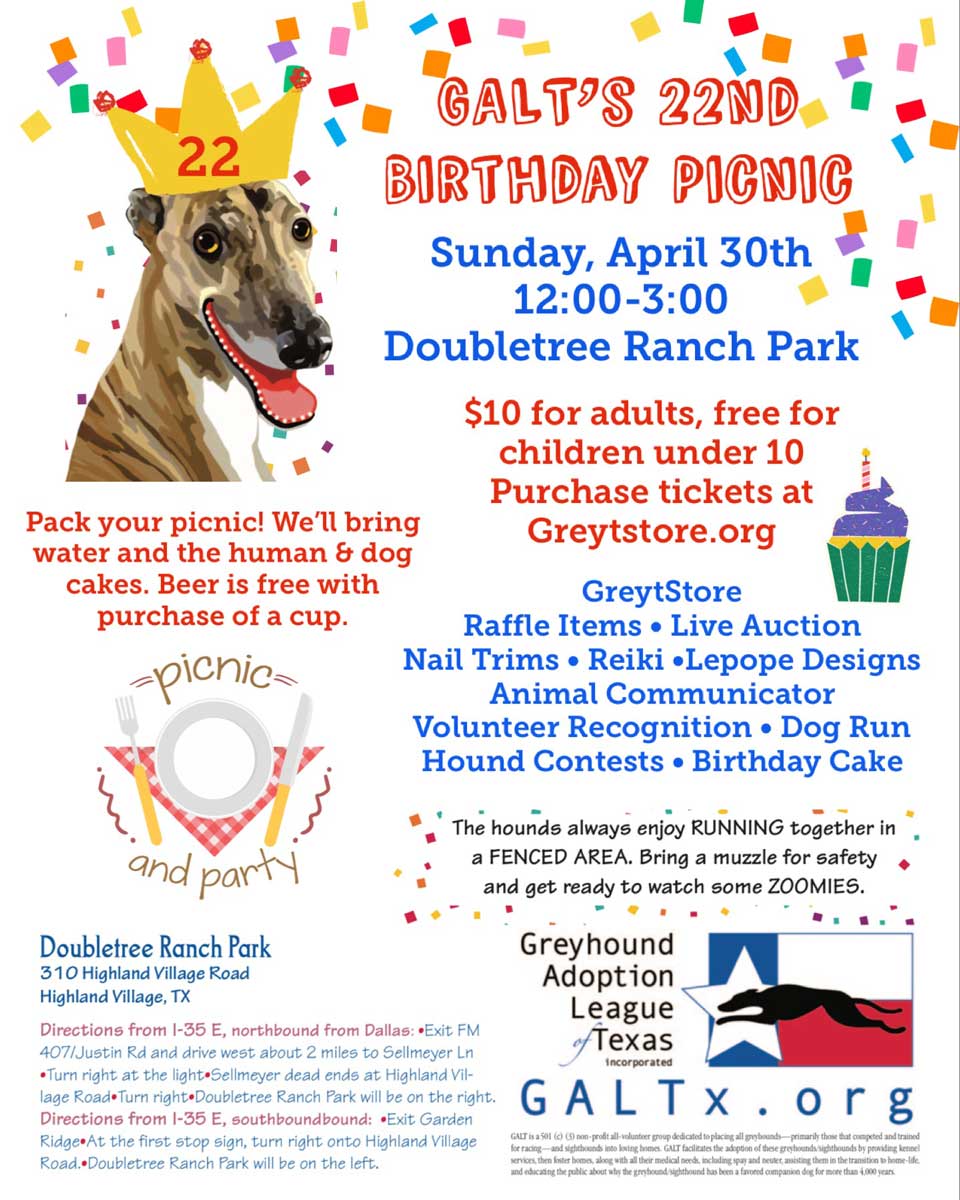 We look forward to seeing you and your greyhounds for an action packed annual Greyhound Adoption League of Texas Birthday Celebration! We'll be at Double Tree Ranch Park in Highland Village.
The Greyhound Spa

 

– Nail Trims – $10 – first come, first serve
Reiki

 

– $10 / 10 minutes – by appt. Reiki is an ancient energy healing practice that is a great stress reliever. Certified Reiki master Suzanne Burke.

Fun contests including a Hound Costume Contest 

(held at the end so they don't have to be dressed up all day)
Shopping at the GreytStore
Volunteer Recognition
Raffle items and Live Auction
Be sure to get your Raffle Tickets at the Bargain Price of $5.00 for 3 Tickets!!
Greyhound Adoption League of Texas, Inc. (GALT) is a volunteer 501(c)3 non-profit corporation operating in the Dallas/Fort Worth metroplex, throughout Texas, New Mexico and the United States. Since May, 2001 GALT has assisted more than 3,900 greyhounds and other sighthounds in finding their forever homes.
GALT depends solely on donations and net proceeds from its GreytStore.org.
We are always willing to sing the praises of owning retired racing greyhounds as companion pets. If your club, organization or group is interested in hosting an educational presentation, please contact us and we will gladly endeavor to accommodate your schedule.
There are many ways you can help through donation, volunteering, fostering, shopping, and networking for GALT.
We're available for adoption! GALT's available greyhounds attend Meet & Greet events each weekend at various locations across the DFW metroplex, so come say hi! If you are interested in meeting a specific greyhound, an appointment can be arranged upon approval of an adoption application. Please click on the pictures below to learn more about these wonderful athletes.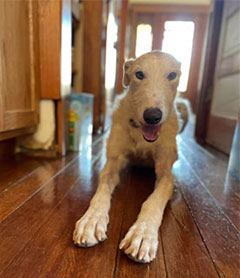 Benji s an estimated 3 year old fawn male staghound born in 2019. He was found in need of medical attention as a stray near Inola, Oklahoma. A good samaritan took him and got him the veterinarian care that he needed. Benji is...
Regardless of your location, there are many ways for greyhound advocates like you to make a positive change and help greyhounds in need. Learn more about greyhound adoption, our volunteer and foster opportunities or other easy ways to take action right from your computer. You can make a difference!
Be prepared to be wowed by GreytStore.org's inventory, as we aim to appeal to the style and value conscious animal lover. At the GreytStore, you'll find items such as clothes and collars for your beloved pet and even apparel, gifts, art and home décor for yourself. In order to cater to our valued clientele, we custom-make a lot of our items, so if you don't see the size or color that you are looking for, just contact us! As always, your purchases and donations go towards helping GALT's greyhounds find their forever homes.
GALT's 20th Anniversary Tee
GALT Memorial Garden Fundraiser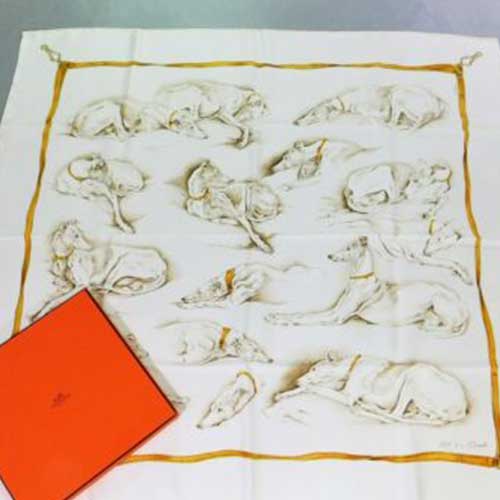 AUTH HERMES 2002 NIBWOT Rare Xavier de Poret 90cm LES LEVRIERS Silk Scarf White
Become a Member of the GALT Family
Thank you for your interest in becoming a member with Greyhound Adoption League of Texas, Inc. (GALT). Your membership dollars will support adoption efforts and care for GALT's greyhounds. Memberships carry no corporate responsibilities and are renewable annually.
GALT supports, welcomes and encourages an active, organized membership base of greyhound lovers who share the passion and vision of finding loving, responsible forever homes for greyhounds. Without your support, we cannot further our mission to find homes for these wonderful dogs and live up to our mission of "No Grey Turned Away"™.
*Quarterly Virtual Raffles will be held at the end of each quarter for prizes including select GreytStore merchandise, gift cards and more.