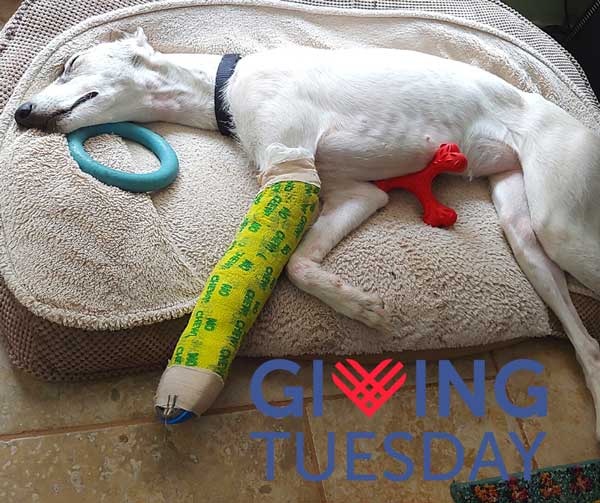 Thank You For The Giving Tuesday Gifts!
Thank you all for your Giving Tuesday gifts and to our anonymous matching funds donors! Together, we exceeded our goal of securing $20,000 in matching funds, exceeded our revised goal of securing $25,000 in matching funds, and raised over $50,000 to help our injured Reserve hounds! We are filled with gratitude to all!
Retail Sales Now Open for Celebrating Greyhounds 2023 Wall Calendars and Weekly Planners!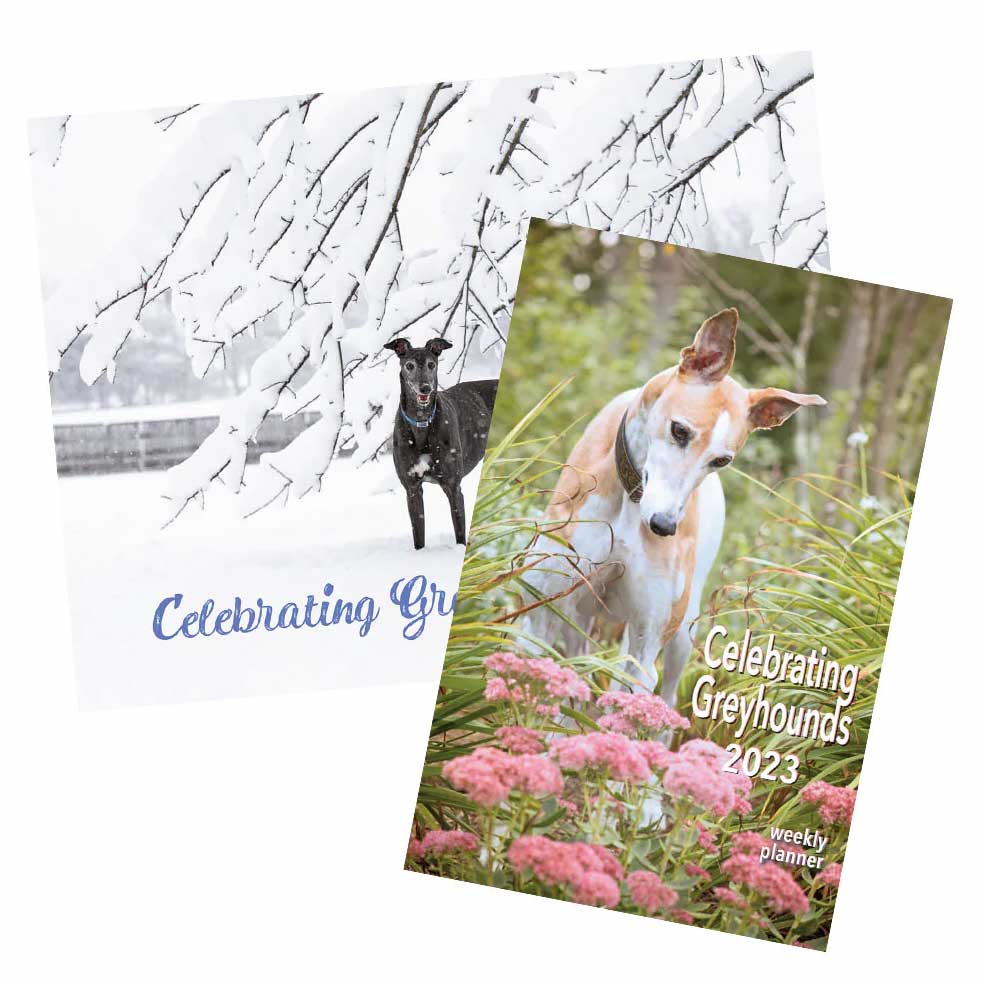 We are now accepting retail order for the  the 2023 Celebrating Greyhounds Wall Calendars and Weekly Planners!
Greyhound Adoption League of Texas, Inc. (GALT) is a volunteer 501(c)3 non-profit corporation operating in the Dallas/Fort Worth metroplex, throughout Texas, New Mexico and the United States. Since May, 2001 GALT has assisted more than 3,900 greyhounds and other sighthounds in finding their forever homes.
GALT depends solely on donations and net proceeds from its GreytStore.org.
We are always willing to sing the praises of owning retired racing greyhounds as companion pets. If your club, organization or group is interested in hosting an educational presentation, please contact us and we will gladly endeavor to accommodate your schedule.
There are many ways you can help through donation, volunteering, fostering, shopping, and networking for GALT.
We're available for adoption! GALT's available greyhounds attend Meet & Greet events each weekend at various locations across the DFW metroplex, so come say hi! If you are interested in meeting a specific greyhound, an appointment can be arranged upon approval of an adoption application. Please click on the pictures below to learn more about these wonderful athletes.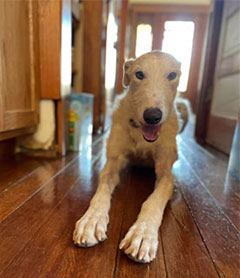 Benji s an estimated 2 1/2 year old fawn male staghound born in 2019. He was found in need of medical attention as a stray near Inola, Oklahoma. A good samaritan took him and got him the veterinarian care that he needed. Benji...
Regardless of your location, there are many ways for greyhound advocates like you to make a positive change and help greyhounds in need. Learn more about greyhound adoption, our volunteer and foster opportunities or other easy ways to take action right from your computer. You can make a difference!
Saturday, November 26 &
Sunday, November 27
10:00am – 4:00pm
Houn House Training Building
4926 Dozier Rd
Carrollton, TX 75010
GALT's Friends & Family Holidya Pictures & Shopping! 

Bring your hounds out for holiday pictures and shopping on Saturday, November 26 and Sunday, November 27, 10:00am – 4:00pm. Santa Vern will be back with us for your Santa pictures, along with GALT swag, raffle items, collars from Laura Pope, Fun Quilts by Janny, and more!
Sign up for pictures with Santa
here
!
Be prepared to be wowed by GreytStore.org's inventory, as we aim to appeal to the style and value conscious animal lover. At the GreytStore, you'll find items such as clothes and collars for your beloved pet and even apparel, gifts, art and home décor for yourself. In order to cater to our valued clientele, we custom-make a lot of our items, so if you don't see the size or color that you are looking for, just contact us! As always, your purchases and donations go towards helping GALT's greyhounds find their forever homes.
GALT's 20th Anniversary Tee
GALT Memorial Garden Fundraiser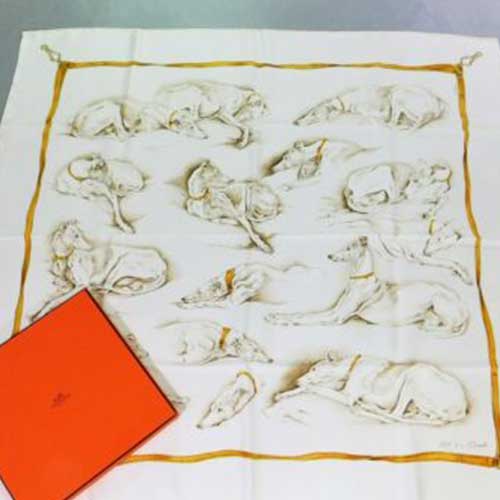 AUTH HERMES 2002 NIBWOT Rare Xavier de Poret 90cm LES LEVRIERS Silk Scarf White
Become a Member of the GALT Family
Thank you for your interest in becoming a member with Greyhound Adoption League of Texas, Inc. (GALT). Your membership dollars will support adoption efforts and care for GALT's greyhounds. Memberships carry no corporate responsibilities and are renewable annually.
GALT supports, welcomes and encourages an active, organized membership base of greyhound lovers who share the passion and vision of finding loving, responsible forever homes for greyhounds. Without your support, we cannot further our mission to find homes for these wonderful dogs and live up to our mission of "No Grey Turned Away"™.
*Quarterly Virtual Raffles will be held at the end of each quarter for prizes including select GreytStore merchandise, gift cards and more.