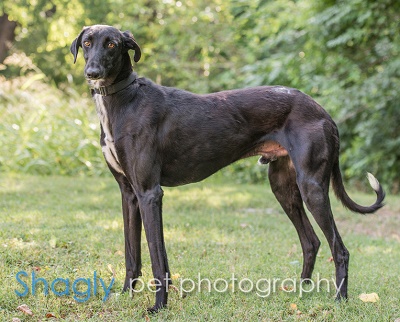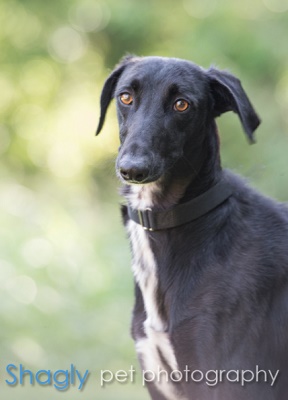 Lyndon is an approximately three year old black male greyhound. Lyndon arrived with George, Lady Bird, Laura, Classy, Etta and Butch from a horrific cruelty seizure in West Texas. Lyndon is in stable condition and is heartworm negative. He is carrying a large load of intestinal parasites and is being treated. His weight at this time is 60 pounds.
Lyndon has passed an initial cat test but has not yet lived in a foster home with cats.
Watch more of Lyndon
Based on his happy demeanor you wouldn't suspect Lyndon came from a cruelty seizure, though he can be sensitive to correction. Lyndon is a very playful boy and integrates easily with other dogs. He has no issues sharing his personal space with people or other dogs. If Lyndon gets in another dog's space, he reacts well when "warned" by another dog. He's filled with so much joy that he even gets the stodgiest seniors to play. Lyndon lives with 3 cats in his foster home. At first he was interested in the cats and he's learned, "NO KITTY". Now he acts like he doesn't really notice the cats at all.

Lyndon loves people and is very puppy-like. When we come home from work he affectionately "nits" us with his front teeth. He licks our hands and follows us room to room and gives us hip checks - he thinks this is really fun. He's very food motivated, eager to please and easy to train. Lyndon has learned several commands while he's been in his foster home - "kennel up" and "kennel down" to get in and out of the car. He knows "back" and "wait", "look at me", and "lay down". Lyndon is good on leash, though still needs a bit of correction. Outside Lyndon enjoys chasing squirrels and patrolling his domain. He loves to run and jump high after squirrels.

Lyndon is crated during the day and in an exercise pen at night. He sleeps really well throughout the night. He has been left loose in the house for an hour or less and he does just fine, though we are still fine tuning his house training.

Lyndon has some really funny vocalizations when he's excited that make us laugh a lot. His ideal home will have a yard with a tall fence and at least one other canine companion to play with. Is this playful boy the perfect addition to your pack?

Lyndon's Foster Family
The special medical treatment cost needed by Lyndon is why the Miss Mesa Fund was established. If you would like to help with Lyndon's care, please take a moment to make a donation to the fund. You WILL and CAN make a difference in Classy's life and the lives of other greyhounds in need of special medical care. Your help and support will make a difference - one greyhound at a time.
Through the GreytStore

DONATE

Through PayPal

By Check

Greyhound Adoption League of Texas
3400 Carlisle St, #310
Dallas, TX 75204

Please note 2016 Grant Challenge/Lyndon on your check.