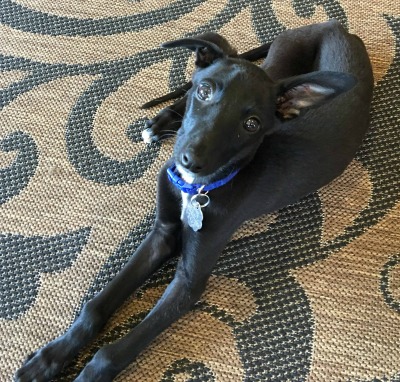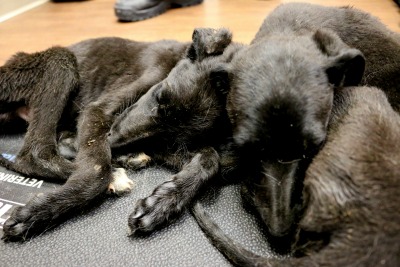 Etta is an approximately 6 week old black female greyhound puppy and sibling to Butch. Etta arrived with George, Lady Bird, Laura, Classy, Lyndon and Butch from a horrific cruelty seizure in West Texas. Etta, along with Butch, was initially in the care of Dr. Wick Culp of Animal Medical Center in Amarillo,, and is now under the care of Dr. Christy Soileau of VCA Preston Park VCA Preston Park Animal Hospital. When she arrived, Etta was dehydrated, very thin and anemic due to her burden of a large load of intestinal parasites. She is being fed very small meals multiple times a day in an effort to slowly gain weight. Treatment for the parasites has started also.
The special medical treatment cost needed by Etta is why the Miss Mesa Fund was established. If you would like to help with Etta's care, please take a moment to make a donation to the fund. You WILL and CAN make a difference in Etta's life and the lives of other greyhounds in need of special medical care. Your help and support will make a difference - one greyhound at a time.
Through the GreytStore

DONATE

Through PayPal

By Check

Greyhound Adoption League of Texas
3400 Carlisle St, #310
Dallas, TX 75204

Please note 2016 Grant Challenge/Etta on your check.