Davis touched our lives in such a short time but he will have a home in our hearts forever. A short tribute for a special friend.
When we loaded up all five "retired" coyote hunting hounds (Davis, Kelly, Nick, Noel and Joy) in our van to make it on their journey to Dallas in search of their forever homes, we knew Davis was special...we even named him after our grandson.
First, Nick jumped in the van and went to the very back and curled up in a ball and we never heard a peep from him the entire six hours. Such a good boy.
Next, Noel and Joy found their spots and would occasionally stand up and stretch their legs, look out the windows and then trade places. I was always getting those two mixed up.
Kelly s-t-r-e-t-c-h-e-d out taking up more room than all the others combined :-) and enjoyed her soft bed and nap. If Joy or Noel accidentally stepped on Kelly, a soft growl could be heard and if you looked you would see all her pretty teeth bared...but if Davis stepped on her, she would glance up and then throw her head back down without a complaint.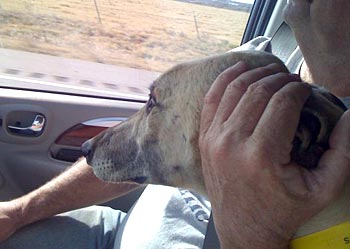 Davis stood the entire trip between the front seats scanning the horizon, anticipating all the good things that we were telling him to expect when he reached his destination. Couches, good food, fun, stritches (he really loved those ear stritches), loving on and having his very own family someday. I warned him about glass doors, stairs, ceiling fans, TVs...and cats. He took it all in and smiled his goofy smile. He would lean into Lonnie for awhile and then lean into me, taking in all the loving he could. He would have enjoyed sitting on our laps in the front seat but we encouraged him to remain in the back with the others. He also wiped out our entire stash of doggy treats in the blink of a greyhound's eye.
We never know how long they will have with us but we do know its never long enough.
Goodbye, sweet Davis, you will always have a home in our hearts.
~Marian and Lonnie