Seniors are the best kept secret in the Greyhound World.
Please consider giving an older greyhound a special place in your heart!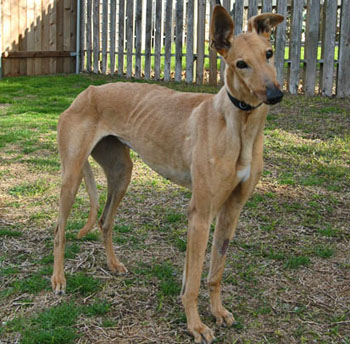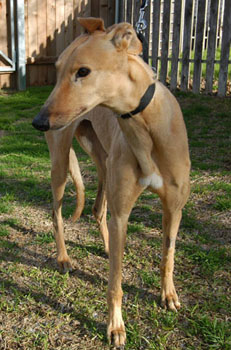 Amber, aka LRC Adios Amber, is a 10-year-old red fawn female born November 28, 2001. Her sire is Gable Dodge and her dam is CY's Paula (GALT's Paula). Amber has a whopping 140 races to her credit on Greyhound-data.com, starting at Gulf Greyhound Park on July 15, 2003, moving to Derby Lane at the end of 2004, and finishing up in Tampa on July 20, 2005.
Amber went on to have two litters of puppies. The first, on March 7, 2006 with Ben Awhile, resulted in one registered pup named LRC Bad Lil Girl who is now GALT's Millie. The second, on June 29, 2007 with Lonesome Cry, resulted in two registered males. Amber has been in a home since retiring from her busy career as a racer and a mother, and has sadly joined the GALT family due to owner illness along with Angela and Millie.
Amber has not yet been tested with cats or small animals.