Seniors are the best kept secret in the Greyhound World.
Please consider giving an older greyhound a special place in your heart!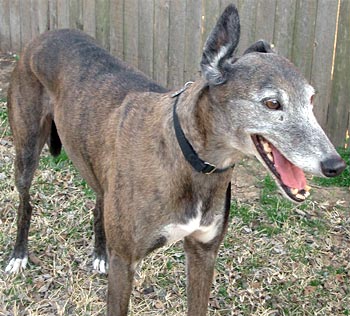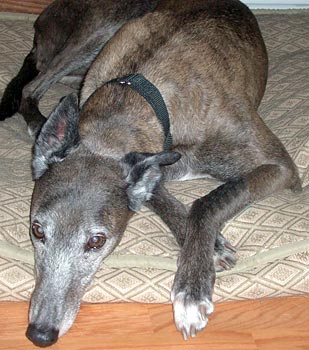 Paula, aka CY's Paula, is a beautiful, dark brindle, 10-year-old female, born August 18, 1997. Her sire is Comanche Sport and her dam is CY's Kid Mako. Paula's racing career started on May 19, 1999, in Iowa and finished 93 races later on December 13, 2000, at Bluffs Run. Paula was bred to the late famous Gable Dodge and had a litter of 11 puppies on November 28, 2001, many of whom went on to be successful racers. A second litter, sired by Teamster (offspring of Molotov), produced 9 puppies on October 19, 2003. Paula has had quite a career racing and being a mom. Paula was heartworm positive when she arrived into GALT's family, but has been successfully treated and is now heartworm negative! She is ready to find her forever home and family!
Paula's Cat Test: Poor Paula met Molly, the cat, and Molly growled and Paula buried her head behind my leg. Then Paula peeked out and that growly cat was still there. Paula decided to get her own growl and bark in. I reassured Paula that if she did not bother Molly, Molly would not bother her. I let Molly go down the long hall to see if Paula followed and she did, but was just curious. Molly did not seem too concerned and Paula got a good sniff in and then had no more interest in her. She was off to other things. Paula will be cat trainable, but since she seems a bit afraid of them, as always caution and a muzzle need to be used. We'll need to see how she does with small dogs later.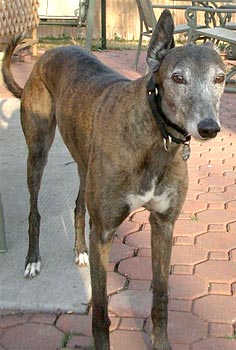 Paula is a very sweet, gentle lady. She settled on a dog bed and made herself at home pretty quickly.