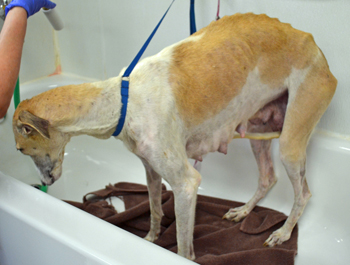 Greyhound Mother and Puppies Rescued in Fort Worth!
Last Friday, July 8, 2011, marked the one year anniversary of the FWAC 28 seizure from Mr. James Gude. As many of you that follow GALT know, Gude has been charged with three misdemeanors in Tarrant County District Court for his inhumane treatment of these animals, namely the deaths of Pudge, Rachael, and Martin.
Upon recent inspection of Gude's home, FWAC found an untattooed white and fawn female with 8 pups - 7 female and 1 male on his property. GALT took possession of these today, Wednesday, July 13th. Mom and pups are currently being medically evaluated by Dr. Jeff Ellis and Dr. Christy Soileau of VCA Preston Park Animal Hospital so we will know more soon.
The mom has been named "Faith" stemming from the thought that we all have Faith that justice will prevail over Mr. James Gude. Pictures are below of Faith and her brood!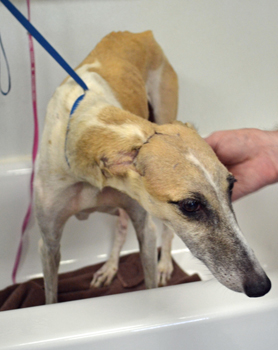 MAMA FAITH
Faith is a white and fawn female between 4 and 5 years old. She was covered in ticks and fleas. Due to the care provided by Fort Worth Animal Control and Care, almost all the fleas and ticks were dead by the time we received her. She is extremely thin and malnourished and is carrying a huge burden of intestinal parasites as well as being positive to Ehrlichia. Faith's right ear flap has been surgically removed, and from the scarring it appears to be from some time ago. She is receiving treatment for the parasites and the Ehrlichia in a foster home. She is heartworm negative at this time. Dr. Ellis' goal is to get her to gain some weight and strengthen her immune system as she weighs only 39.5 pounds right now.
THE GREYT EIGHT PUPPIES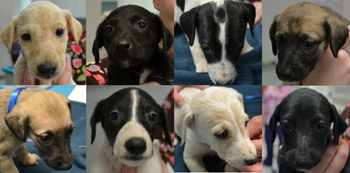 The puppies vary in weight from 3.5 to 4.9 pounds and are between 5 & 6 weeks old. They were covered in fleas and ticks as well, but as with Faith, most were dead by the time GALT received the puppies. The puppies have had an initial treatment for intestinal parasites. The environment Faith and the puppies were living in was horrible and unsanitary. Sevin dust was used for flea and tick control. Faith and each of the eight puppies are being closely montiored for any and all abnormal behavior and conditions.
Please stay tuned for more information as we need your help with the naming and care of these precious ones - your participation is vital to help GALT get these babies on their way to long-term loving homes.
Once again, we want to express our thanks to all of you for your continued support that enables GALT to never turn away a greyhound in need.
---
In The News