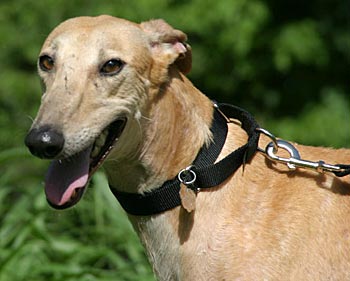 Pudge is one of 9 greyhounds GALT received from a Fort Worth Animal Control cruelty case. He is a handsome fawn boy who is estimated to be 3 years old. Pudge gets along well with other dogs and thrives on attention from his foster mom and anyone who comes over. Pudge was covered in ticks when he was rescued, but he sat or stood patiently for the 1.5 hours it took to de-tick him. He is one happy boy, too, as his tail is constantly wagging.
Just like the other rescued dogs, he is positive to babesia as well as ehrlichia at extremely high titers and has a huge load of intestinal parasites. He is being treated for all.
UPDATE 7/26/10
Pudge was seen by Dr. Christy Soileau at Preston Park Animal Hospital last week for a check-up. He has the beginnings of an upper respiratory infection, which prompted Dr. Soileau to treat him with marbofloxacin and clindamycin. He is still on Doxycycline for 4 more weeks for treatment of ehrlichia. Pudge's ears were red and hot to the touch, so Dr. Soileau is treating him with two different ear medications. Dr. Soileau noted that Pudge has sheets of scaling skin along with alopecia.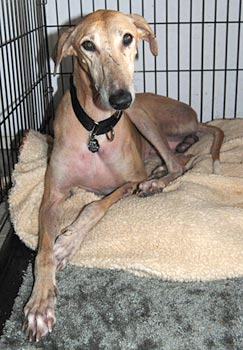 UPDATE 7/29/10
Pudge was moved to the Animal Diagnostic Clinic under the care of Dr. Doug Bronstad. Results of his evaluation will be reported as soon as known.
UPDATE 7/30/10
Pudge is receiving supportive care in the form of fluids infused with broad spectrum antibiotics at the Animal Diagnostic Clinic under the care of Dr. Doug Bronstad. Pudge had a slight head tremor at that time, which today is muscle tremors on the front part of his body. He is eating a little and is very lethargic. His condition at this time is guarded.
UPDATE 7/31/10
Pudge's condition has deteriorated with increased seizure activity in the last 12 hours. Pudge was released from his suffering with his loving foster mom and friends by his side. Run free, Pudge, with Rachel, Martin, and Braden in green fields of clover.
UPDATE 8/2/10
PCR testing was received which confirmed Dr. Doug Bronstad's diagnosis of distemper.