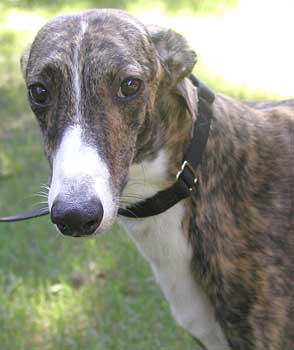 Zinnia is a beautiful, 4-year-old, brindle-and-white female born May 5, 2005. Zinnia is the "B" pup in the litter, and she was not individually registered with the NGA. Her sire is Oneco Spirit, making her grand sire the late Gable Dodge, and her dam is KB's Easy Lark, making her great grand sire Molotov - note the beautiful white throat which is Molotov's trademark. The four that were registered and named in her litter were all names starting with a "Z" – hence, GALT's "Zinnia."
Zinnia was adopted and in a home for several years, but because of changes within the family, she was returned to GALT. Zinnia is not cat tolerant, but appears to be small dog tolerant.
Zinnia has quite a history which is told below: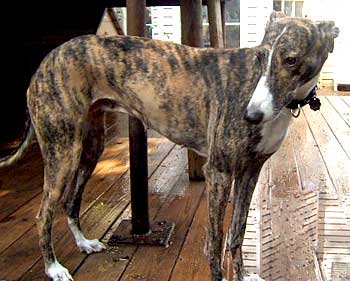 When Zinnia first arrived to GALT in July 2007, she was VERY pregnant. Zinnia was among several greyhounds found as strays by Fort Worth Animal Control, the other being GALT's Lily. Zinnia's owner was contacted, and of course he could not imagine how she arrived in Fort Worth, as she came from the area south of Austin - let alone pregnant! Thursday, July 19, 2007 was the day Zinnia had her puppies - Clover, Fern, Ash, Basil, Saffron, Quince and Kale!