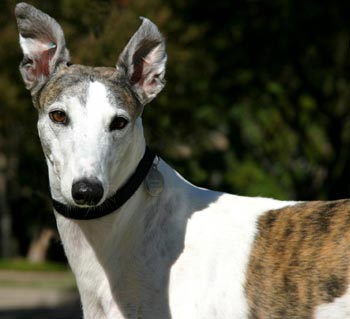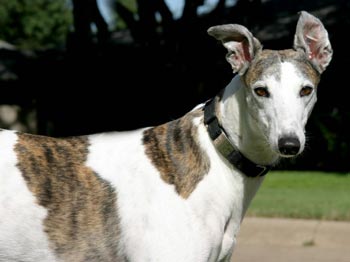 Violet, aka Kansas Violet, is a lovely white and brindle female. Born on May 2, 2004, this five-year-old is the offspring of sire, Fortified Rush, and dam, Skiddy Velocity. Like her sister, Wish, Violet never raced, deciding immediately to pursue a quieter lifestyle. She is a shy lady, and will need a patient friend to help with her transformation from a shrinking violet to a loving companion. Violet was adopted and through no fault of her own, it was not to be her forever home. Violet would do best in a home without cats and small dogs.
Meet Violet; her mission in life: to stare down squirrels, to play with toys, and to find someone to love and trust.

Violet has been a model house guest! She's never had an accident in the house, and will let you know if she needs to go out. She runs into her crate happily when she gets a meal or a treat, and will stay in there without complaint. She likes to play with toys and with other greyhounds. She loves her walkies and can be very vocal if you're not getting her leash fast enough. She doesn't try to get up on the furniture, but she will occasionally run her long nose along the counters just to see if you left anything tempting out for her.

Violet is very affectionate when she chooses the time & place. She's a bit shy and tends to avoid people who approach her directly. When she feels comfortable, she loves to nap stretched out on her back, showing off her little overbite. This gorgeous girl has her radar ears up looking for you!

Violet's Foster Parents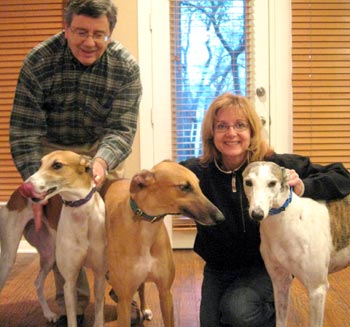 Violet with her new greyhound sisters Heaven and Kiki.