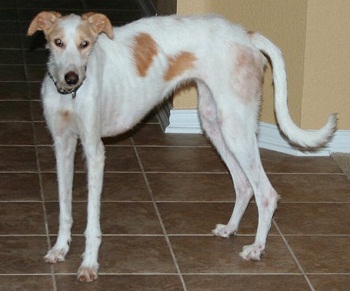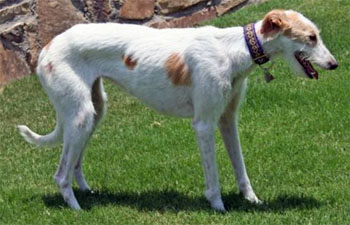 Stephie is an approximately 3½-year-old white and fawn long-haired female. She was taken into custody by Ft. Worth Animal Control Cruelty Investigators on June 17, 2011, from the same residence in Ft. Worth where Jitterbug, Sweet Pea, Red, Delilah and Bessie were found on August 11, 2010. Stephie was covered with ticks (engorged as well as tiny seed ticks), weighed only 36 pounds, was infested with intestinal parasites, and tested positive to Ehrlichia titers at an extremely high level. Her original pictures are here.
Stephie has been successfully treated for the intestinal parasites, Ehrlichia and also has a negative PCR test! She has completed her medical procedures and is ready to find her forever home!
Note: Dr. Jeff Ellis of VCA Preston Park Animal Hospital has been in charge of Stephie's treatment. When she first arrived her age was estimated at 1 ½ years old; now, after her spay procedure, he estimates her to be 3 ½ years old.
It is not known if Stephie is small animal or cat tolerant.