Seniors are the best kept secret in the Greyhound World.
Please consider giving an older greyhound a special place in your heart!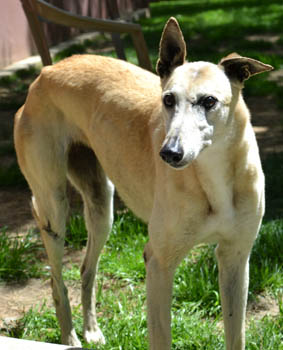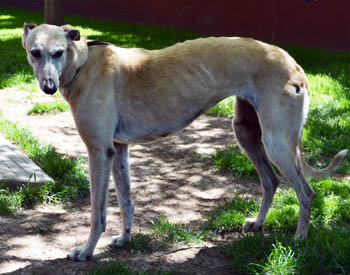 Senorita, aka Sexy Senorita, is an 11-year-old fawn female born March 18, 2003. Her sire is Oswald Cobblepot and her dam is R U Nurse Betty. Senorita has no races to her credit, but did whelp four registered offspring. Three came from a litter with sire Bob's Skeet in February of 2008, and one from a litter with sire Nita's Wild Bill in April 2010. Also in the April 2010 litter were unregistered girls, Sandy and Mira, adopted out by GALT in 2011. Senorita tested positive to heartworm.
UPDATE 4/10/13
Senorita has received her first heartworm treatment, and is resting quietly and comfortably in her foster home.
UPDATE 5/31/13
Senorita has completed all her heartworm treatments, with the first being April 9, 2013, and the second was finished on May 13 and May 14. She will now be kept quiet in her foster home for the next 60 days, at which time she will be retested. Senorita is also being treated for intestinal parasites.
UPDATE 1/17/14
Senorita's heartworm treatment was successful. She will now be scheduled to complete her medical procedures and be on her way to her forever home!