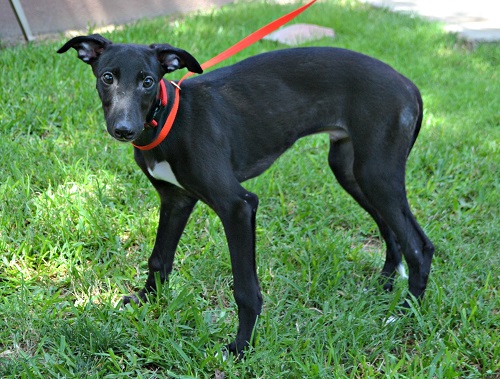 Levi is a 6-month-old black male born in March 2014. He was surrendered along with four of his littermates (Christy Ellin, Tyrion, Countess Aliesha, and Riddick) and four younger puppies from another litter (Valentino, Petey, Helaku, and Medley). All the puppies were thin and had intestinal parasites. Levi was medically treated and is ready to find his forever home! He has passed an initial cat test.
From Levi's namer: Red Boy reminded me of my Ms. Lexi, while I was referring to him as Lexi Jr., I thought he deserved his own name. I decided on Levi in a sense due to it's similarity to Lexi. If he grows up to be even a little bit like her his owners will be beyond blessed! (Honorable mention goes to "Lex Luthor" and "Captain Underpants").
The rescue of the Baytown Nine Puppies truly exemplifies the saying "It takes a village." Rumors had been heard that puppies were going to be released to a shelter in the Baytown area. Once confirmation was received locally and from as far away as Vermont, GALT made contact to get these puppies into a safe and healthy environment. Many thanks go to the local rescuer, Aliesha, in Baytown! She was told that the parents are greyhounds registered with the National Greyhound Association, but that has not been verified. Aliesha is still trying to get the adults turned over to her for spay/neuter.
Levi is extremely outgoing and loves everybody and everything. He is not afraid of a single thing (even plays with the vacuum when I am cleaning) he is friendly, affectionate, loves other dogs, loves kids, loves to snuggle, loves to play - basically he loves life. He is completely potty trained and rings the bells when he needs to go out. He has a blast running zoomies around the back yard. One of his favorite things to do is sit in the recliner / rocker and rock. He has mastered the chair rocking quite well! What a character!

Levi's Foster Parents