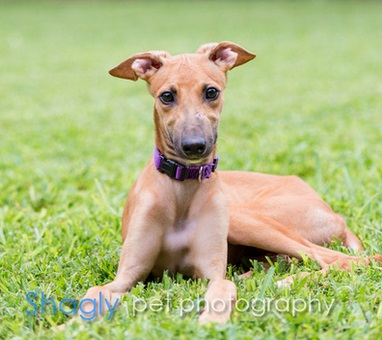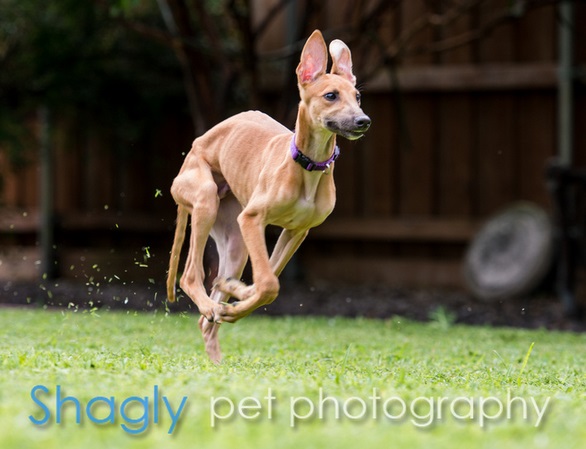 Tyrion is an 8-month-old red male born in March 2014. He was surrendered along with four of his littermates (Christy Ellin, Levi, Countess Aliesha, and Riddick) and four younger puppies from another litter (Valentino, Petey, Helaku, and Medley). All the puppies were thin and had intestinal parasites. Tyrion especially so because of an intestinal problem. He has now been medically treated, has gained weight, and is ready to find his forever home! Tyrion has passed a cat test, and all he wanted to do was avoid those scary little creatures, but he needs to spend some time in a foster home with them to be sure.
From Tyrion's namer: He's Tyrion because he is small, but smart! (This is Peter Dinklage's character on Game of Thrones).
UPDATE 9/18/14
Tyrion had surgery on September 9 to repair a condition that has probably existed for a long time. His small intestine had telescoped into his large intestine, causing much discomfort and bloody discharge. Surgery was performed by Dr. Aaron Wages of VCA Preston Park Animal Hospital. In a very difficult surgery, Dr. Wages removed approximately five inches of his small intestine and then reattached it to his large intestine. His recovery has been watched closely, and appears to be successful. Now he just needs to gain some weight.
The rescue of the Baytown Nine Puppies truly exemplifies the saying "It takes a village." Rumors had been heard that puppies were going to be released to a shelter in the Baytown area. Once confirmation was received locally and from as far away as Vermont, GALT made contact to get these puppies into a safe and healthy environment. Many thanks go to the local rescuer, Aliesha, in Baytown! She was told that the parents are greyhounds registered with the National Greyhound Association, but that has not been verified. Aliesha is still trying to get the adults turned over to her for spay/neuter.