Seniors are the best kept secret in the Greyhound World.
Please consider giving an older greyhound a special place in your heart!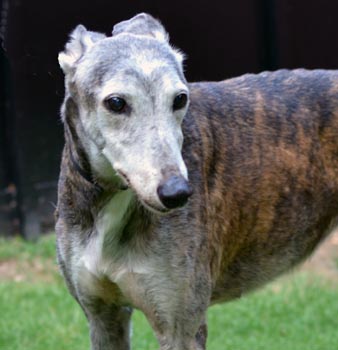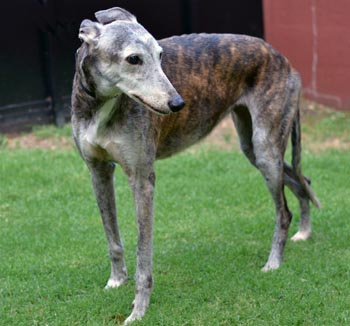 Rain Dance, aka Dovrun Raindance, is a 12½-year-old brindle female born November 1, 1999. Her sire is the late, great Molotov, and her dam is Debutante Dancer. Rain Dance has 11 races to her credit on Greyhound-data.com, all at Flagler in Florida. She started her short career on October 11, 2001 and ended it on November 26, 2001. Rain Dance arrived with her friend Caprice, and they both have plenty of living left to do! She has not yet been tested with cats or other small animals.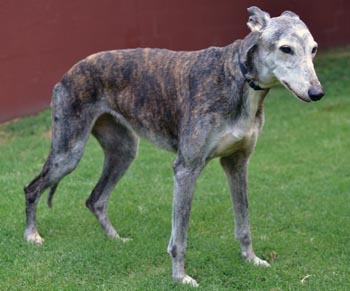 Here is their story:
On the evening of May 27, 2012, GALT received a phone call from Judy C. in Delaware who had been contacted from someone in the south TX area regarding an ad in the paper for 4 adult greyhounds-need good home or homes. A phone call was placed to the number in the ad, and it was the sister of an elderly man whose wife had recently died. He had raised greyhounds for years, but was no longer able to care for them and had 3 females and 1 male. Two of the females are 12½ and one is 11 years old, and the male is 11 years old.
Arrangements were made for the dogs to be picked up by a greyhound volunteer, Mark B., who lives in Houston, and GALT's Stew B. met him to complete the transport to Dallas.
Many thanks to Greyhounds Unlimited for taking the 11 year old male and one of the 12½ year old girls.