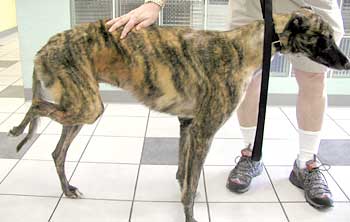 Marty was captured on Saturday, May 27, in Corsicana by GALT dedicated volunteers, Kelly, Lisa, and David, with the assistance of Kathy, Shirley and Denise of GU East Texas. This culminated a month-long intensive search after Kathy saw an injured greyhound running alongside the highway the end of April. As it turns out, the employees of an auto dealership and the local Jack in the Box had been feeding this stray brindle male greyhound for almost a year. They were never able to catch him, as he would duck and shy away. He has been very elusive over the past 4 weeks, but staying within a 1-mile radius area. GALT's live trap was taken down the first weekend in May and strategically placed with the hope it would do the trick...but it was not to be. He was finally cornered in an abandoned shed where he willingly surrendered to his dedicated captors.
Marty was immediately taken to Dr. Jeff Ellis of Preston Park Animal Hospital where he received urgent medical attention and x-rays were taken of his right rear leg. The tibia part of his leg appears to have been broken approximately 4-6 weeks ago, and now the bone is surrounded by intense infection, with draining sores on the outside of the leg. He also suffers from acute anemia, as well as internal parasites. Blood work, which will tell if he is heartworm positive or not, along with other critical information, and test results from his Protatek tick profile will be forthcoming in the next few days. Dr. Ellis estimates Marty to be about 18 to 24 months old, as he is not tattooed.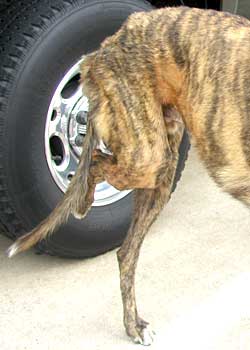 Marty has been named in memory of Apple Martini, another GALT stray. Apple Martini traveled to the Rainbow Bridge exactly a year ago yesterday, May 26, 2005. Marty is now being fostered by Kelly, who so lovingly cared for Apple.
It's hard to believe that it has only been a little over a week since we rescued Marty. His leg is looking better - the antibiotics are helping with the infection, and the horrible smell is almost gone. Marty has been getting at least two sponge baths a day, along with warm compresses on the wound. The little guy looks like he has finally found heaven - all of the food and love a hound needs.

He did trip coming in the back door a couple of days ago and landed on his bad leg. He cried for several minutes, but seems to be okay. The wound did bleed after the fall and he was pretty sore but he doesn't appear to have any additional problems from the ordeal.

His skin is looking better and he isn't scratching as much. He does have several bald patches on this head and back. When he does blow his coat, I'm afraid he's going to be one pitiful-looking hound.

Marty's Foster Mom
Update 6/6/06
Marty's bloodwork and tick profile came back and shows him to be very anemic (from hookworms most likely), he tested negative for heartworms and negative for all tick diseases at this time. Evidence of an ongoing infection, obviously, showed up also. Dr. Ellis' instructions are to continue the antibiotics, warm packs on the infected area several times a day, and get him to eat! His ticks and fleas are finally gone, and his coat has quite a few bald areas. Dr. Ellis will continue to monitor and evaluate the infection in his leg, and will see him in several days. Although he is carrying it much lower than before, it still cannot support any weight.
Update 6/16/06
Dr. Ellis referred Marty to Dr. Bob Radasch of the Dallas Veterinary Surgical Center to get a second opinion in determining if Marty's leg is salvageable. Dr. Radasch concurred with Dr. Ellis that the best route for Marty is amputation of his leg. That will be scheduled within the next several weeks - until then he will stay on antibiotics for the infection. Marty has been getting around on 3 legs fine, and both Dr. Ellis and Dr. Radasch feel he will be much better off.
Update 7/2/06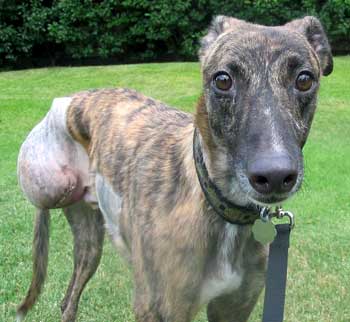 Dr. Ellis performed surgery on Marty Wednesday, June 28, to amputate his right rear leg. Marty has done really well, and surgery was a success. Dr. Ellis dismissed him from the hospital on Saturday, July 1, sending him to his foster home with medication and a pain patch. There is a little swelling, which is totally expected, but all looks really good. Marty is resting and eating well in his foster home; he doesn't seem to be in a lot of pain, but has a little trouble getting comfortable. His foster greyhound siblings are being very gentle and respectful with him. Marty's foster mom, Kelly, says he seems very, very content to be at home. Dr. Ellis is monitoring Marty closely, and will be seeing him tomorrow.
Update 1/10/07
MARTY'S NURSE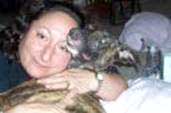 Marty is a brindle boy who was finally captured on May 27, 2006, after many, many months of living in the wild, eluding his capturers and eating handouts from Jack-in-the Box. There were several GALT members who were part of the rescue party. One in particular, Lisa, fell in love with him from the beginning. Marty had a broken rear leg that the vets were not able to save, and on July 2, 2006, Marty's leg was amputated. Lisa was with Marty every step of the way, even when he went to his foster home to recuperate and to be near the vet for periodic checkups. Lisa is a nurse so she had a particular skill to help Marty through his ordeal, and since she is a close friend of Marty's foster she would visit him often. As soon as Marty was released by Dr. Jeff Ellis, Marty went to his forever home with Lisa. He now shares his home with several Greyhounds and a Whippet. Marty has even mastered going in and out of a dog door. Lisa caught a special Kodak moment of Marty lounging on the sofa and that picture is in the 2007 GALT Calendar. No more eating at Jack-in-the Box for Marty!
To all of you who opened your hearts and donated funds to help with Marty's medical cost, GALT would like to send licks and hugs from Marty!
Lisa and Marty