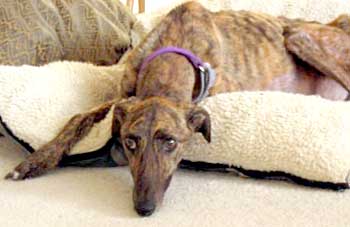 We know that everyone thinks they know what "emaciated" means - "wasted away" and "physically haggard," but until you have actually seen Apple, aka Apple Martini, born in August 2, 2002, "emaciated" is only an adjective. It does not begin to describe Apple's body.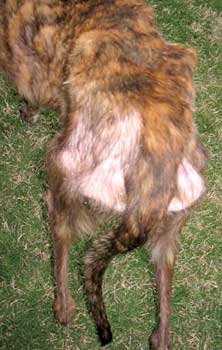 Apple was picked up by the Fort Worth Animal Control as a stray and came into GALT's program on April 14, 2005. She was so weak she could hardly stand, her gums were sheet white, and she was full of parasites. On Friday night she had plasma and red blood cell transfusions.
She is a small red brindle girl, whose face is so thin it looks pinched and her eyes are dull. She is so weak that sometimes she only has the energy to move her eyes as she follows her foster mom's every move. She is losing her hair from lack of nutrition and quite frankly, she smells. However, she has not been in any physical condition to bathe yet. Her elbows have no hair on them and are dry and scaly and itch, and her nails are long and pointed.
When you see her lying on a bed, you realize she's skin and bones! But you do not get the full effect until you watch her struggle to stand and see her shaky legs try to do what you have asked her to do. Every protruding rib is visible; you can count every knob of her spine; her stomach is distended with fluid, as a starving child's; you can see almost every surface of her pelvic and hip bones. It's like looking at an X-ray with no machine.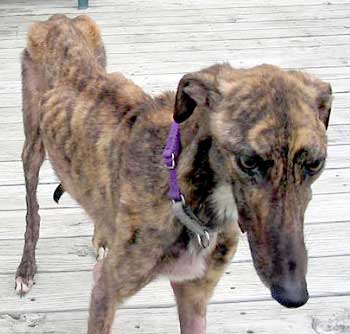 Although Apple is heartworm negative, she is positive to Ehrlichia Canis and her treatment will be delayed until she becomes stronger.
Look at your greyhounds and be proud for what a wonderful life you have given them. Rub their full tummies and croon to them what good boys and girls they are. Laugh at them as they cockroach on the sofa. They've all had a chance to have a luxurious retirement.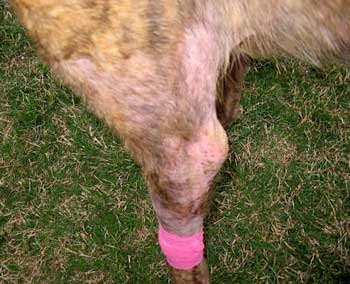 What kind of chance has Apple had? She's only a little over 2 1/2 years old. She raced in Corpus Christi from February 18, 2004 to June 30, 2004. Her whereabouts since that time are unknown. No one knows how she ended up starving on the streets of Fort Worth - at least not yet.
Apple is under the care of Dr. Amanda Florsheim and we hope she has turned a corner, so she will now have the chance that so many other greyhounds have had. Her foster mom is giving her lots of love, a warm, soft bed, and feeds her every two hours. She has to be careful not to overload her system. Hopefully time will be Apple's friend now – time to heal, time to learn to trust, time to gain strength so she can run and play with all the other greyhounds. Keep Apple in your thoughts – maybe she will be the "Apple of your eye" one day.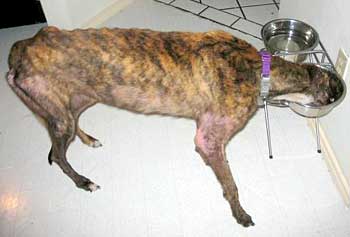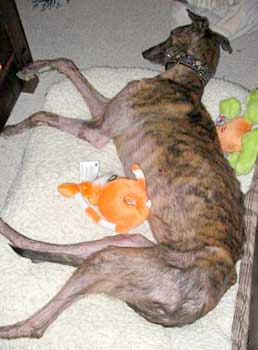 UPDATE 5/12/05
"Apple Tini" continues to progress slowly – it is almost like 3 steps forward and 2 steps back. Her weight has been very hard to stabilize, and her last documented weight was at only 43 pounds, which is only up a couple of pounds from where she came in. She is on pancreatic enzymes to help with her food absorption. Her foster mom, Kelly, is feeding her multiple times a day and says "most of Apple Tini's day is spent eating or waiting to eat. She has gotten to the point where she is no longer bolting down her food. She seems to understand that food is plentiful at her foster home, and she doesn't have to worry where her next meal will be...she is finally realizing that she is safe and loved. As far has her behavior goes, Apple Tini is a wonderful house guest! She is fully house trained and understands the word 'no'. She does however find counter surfing to be a great hobby! Next to food, the big love of her life are her toys. She is definitely a collector and likes to gather them around her. All but one of her pressure sores are healed, and she has stopped scratching herself raw and hasn't needed a Benadryl for several days."

Dr. Florsheim of Preston Park Animal Hospital has ordered a CBC and more tests for tomorrow which should give an accurate indication of where she is medically. Those results will be posted here soon.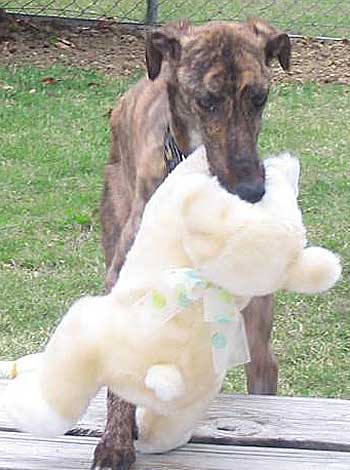 UPDATE 5/20/05
Apple Tini's blood work and test did not show improvement from the last report. However, her weight is up to 49 pounds, 6 pounds above her last documented weight. She received an Imizol injection this week for Ehrlichia, and of course she is taking her daily medication of Doxycycline. This evening, Friday, May 20, she is at the Collin County Emergency Clinic receiving packed red blood cells in an effort to raise her platelet count above 12. More will be posted as we know.
UPDATE 5/21/05
Apple Tini's platelet count has improved only very, very marginally from the packed red blood cells given to her last night. She was transferred to Preston Park Animal Hospital at 8am today. Dr. Amanda Florsheim did a sonogram to see if any blood was collecting in her abdomen - and nothing was seen. She was transferred back to Collin County Emergency Clinic at noon today, where she again is receiving two more units of packed red blood cells. Apple Tini's condition is very critical at this time. Please keep her in your thoughts.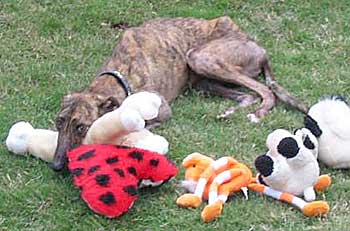 UPDATE 5/23/05
Apple Tini received two units of packed red blood cells Saturday evening at the Collin County Emergency Clinic - this helped her marginally. Monday morning Dr. Amanda Florsheim referred Apple to the Animal Diagnostic Clinic at the Veterinary Referral Center of North Texas, where she was admitted under the care of Dr. Caeley Melmed. A bone marrow aspiration and biopsy were performed late Monday afternoon; test results will take several days on both. A sonogram revealed enlarged lymph nodes around her intestines, and her spleen looked suspicious. Apple Tini tolerated the procedure, but is in critical condition. Dr. Melmed said all of her cell lines are dangerously low, and she could spontaneously start bleeding at any time. Medications are being administered in an effort to jump start Apple's cell production.
UPDATE 5/24/05
Two more units of packed red blood cells were given to Apple, as well as two more injections to jump start her bone marrow production.
UPDATE 5/25/05
Apple's condition continues to show NO improvement. Surface bruising is evident on a large part of her body.
UPDATE 5/26/05
Apple's struggle with Ehrlichia ended this morning. She very peacefully and quietly crossed to the Rainbow Bridge, knowing she was very much loved by those who entered her life exactly six weeks ago - April 14. Despite all efforts to stimulate her bone marrow production of red and white cells, there was no improvement in her condition - only a drastic decline.
***Please consider making a donation of any amount to help with Apple Tini's medical bills. The cost of her medical care exceeded $4000 during the 6 weeks she was in GALT's care. When Apple Tini arrived on April 14, the commitment was made to help and care for her; that commitment has been seen through. That was the promise made to Apple Tini.