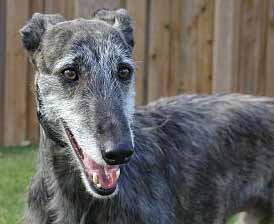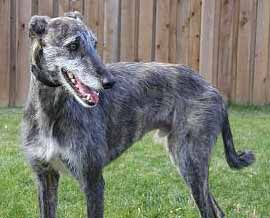 Meet Llop, pronounced "Yop", a Spanish Galgo (greyhound) from Barcelona, Spain who arrived December 18 to GALT's family of greyhounds from SOS Galgos. GALT was contacted through a mutual friend, Dr. Suzanne Stack, about a galgo that had the opportunity to accompany a volunteer from SOS Galgos who was returning to Texas. Because the plight of the greyhound in Spain is absolutely atrocious, every chance is taken to transport them out of the country. Anna Clements, co-founder of SOS Galgos, contacted Dr. Stack about Llop's possible transfer to the US, and Dr. Stack, in turn, contacted GALT. We are proud to welcome Llop into GALT's family as our second Galgo; Keppy was the first!
He actually looks like a deerhound. He's a wire-haired galgo, as some of them come. He's brindle and weighs 25 kgs. (about 55 pounds). His name, Llop, means "wolf" in Catalan (the language spoken in this part of Spain). Llop's story of rescue is told here. He was adopted through us in August to a very nice family three hours drive from Barcelona. The problem was that the three kids, all under ten, fussed over him a lot, and their mother who was at home all day, had him outside most of the day while the kids were at school. We had thought that she was more of a dog lover. We asked for him back, because understandably, he was developing separation anxiety and the decision was mutual. The little boy was so attached to him, he was devastated when they parted. If ever there is a possibility of sending him a photo of Llop with his new family I'm sure it will help him overcome their parting. Llop is about 4 years old and was not used for racing, but probably for hunting in Spain.

Anna, writing about Llop
Llop's long trip to the US went well, and he is adjusting to life in American quickly. He lives in a foster home with a male poodle, greyhound and a female greyhound. Llop is not cat tolerant.
Loppers, Llaparoo, or any other name you want to call him -- he is a sweetheart. If anyone deserved to come to the US to be an ambassador for the Galgos, it is Llop. He is a funny-looking guy. Looks like a brindle Greyhound that someone dropped an Irish Wolfhound blanket on -- his head and legs are smooth, the rest is VERY fuzzy, including his face. His feet are huge compared to an American Greyhound, almost like a Maine Coon Cat. He is small for a male, about the size of my small female Greyhound. The people in Spain said that he was 4, but he acts a bit younger. He is very alert but not nervous. He has fit into our foster home beautifully. He gets along very well with my male miniature poodle, with Llop being the one to play bow, cockroach and instigate runs around the yard. He did not show any attitude to the male Iggy at the vet yesterday either. At this point he certainly appears small dog safe, but far too interested in cats to be correctable.

Llop is very easy going and loving. He is growing comfortable enough to go to his bed in another room instead of sticking right by me. He is not possessive of bed space. If someone is in his bed, he just goes to another. He has figured out the sound of the dog cookie box in the pantry and almost attacked me over an avocado last night. I gave him a tiny sliver, but didn't know if avocadoes were good for dogs -- I've never had one show any interest.

Anna in Spain said that he had 'the most soulful eyes' and he truly does. The first night they were full of worry. Now they sparkle when he races around the yard or rolls in the grass and are sweet calm mirrors when he's resting. He sits on command in Spanish and gives lots of besos, or kisses. Sweet, sweet Llop.

Llop's Foster Mom, Pam
GALT feels Llop will do best in a home where there is at least one existing greyhound and no cats.
Adoption Announcement for Llop, now Sparky