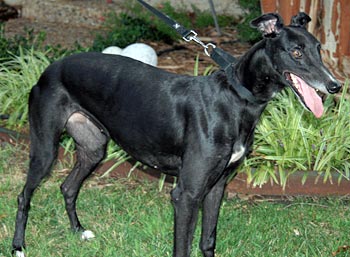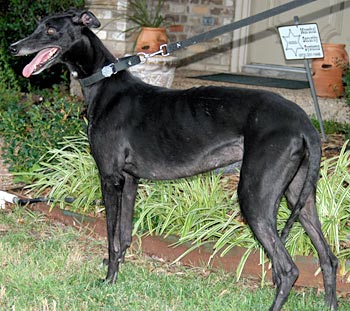 Liberty is a 7½-year-old black female born May 2001. Her registration ear is not legible, only 51C in her right ear, so her identity will remain a mystery. She was named Liberty because of the ensuing holiday, July 4, when she arrived into the GALT family. Liberty is a stray from Fort Worth Animal Control, and like so many others, was heartworm positive, as well as suffered from several other medical conditions. All have been treated, and Miss Liberty now is heartworm negative and free of all parasites! She is a wonderful girl who is looking for her forever home!
Liberty's cat test was mixed: Liberty's cat test was a mixed bag. I think she's trainable, but needs work. She was very interested in Dom and Lila. At one point Dom didn't feel threatened and played along with her nosy eagerness. At a later time he crouched, growled and hissed. Liberty currently lives with a cat in her foster home. Through her convalescence, she ignored the cat. Then a young dog in the house showed her that chasing the cat was fun, so now she's a chaser. I was able to call her off sometimes, but other times when I stood in the way of her line of focus, she darted her head around me to keep watch on the cat. We are well aware that indoor cats and outdoor cats are totally different situations; Liberty should definitely not get access to a cat outdoors. Also, being in a strange house with different cats is more stressful than being in a familiar home. I would hate for any harm to come to someone's cat, so let's see how her kitty etiquette training works out in her foster home.
Liberty's small animal test: Liberty has been introduced to small dogs and backed off quickly when the little ones gave her a warning. With slow introductions and supervision, she is considered small animal tolerant.
Liberty is a diamond in the rough. Who would have thought that the Ms. Liberty we received on July 4, 2008 would evolve into this sparkling treasure! Liberty has such a vibrant personality and loves everyone. At her first meet-and-greet, she had to say hello to everyone who walked into the store, human and canine alike with her tail wagging. She may be 7 years old, but she acts much younger. Pleasing you is what she's all about. She knows how to sit and go in her crate. At night she sleeps in my room and spends the day in her crate with no problems. She loves to play and will make you laugh with her enthusiasm. If you forget to pet her, she'll bump your hand and talk to you reminding you that she's there. There's no doubt about it – she is one happy and beautiful girl!

Liberty's Foster Mom