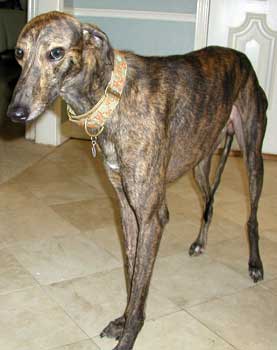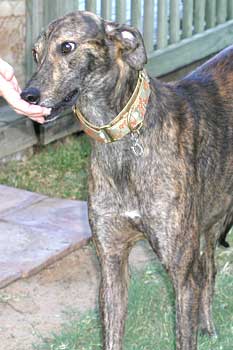 Lee is a dark brindle greyhound who was found as a stray outside Paris, Texas. Lee is not tattooed, and his age is estimated to be 2 years. Lee came to GALT as a very, very sick greyhound – please take a moment to read his story. Lee has been successfully treated for his tick diseases, and is now ready to find his forever home. Lee, perhaps because of his background, is a little reserved until he is familiar with his surroundings. He loves his babies and will play and play with the stuffy toys. Lee gets along well with other large dogs and is cat tolerant.
LEE'S ODYSSEY
You may remember those awful pictures of a dog's hairless legs and feet so swollen he could hardly stand. That was Lee, a brindle boy that was rescued from a life of living in filth on May 22, 2006. Miraculously, Lee was heartworm negative but was full of parasites, extremely thin, and had a tick-borne disease. His recuperation time, while being treated for the parasites and Ehrlichia, was painful and long. He was in a foster home regaining his health for over six months in the company of Greyhounds and Labs. When he was released by Dr. Jeff Ellis in November, 2006, you would not have recognized this beautiful, healthy boy with a shiny coat as the same scared, malnourished greyhound that originally came to GALT. In December 2006, Lee stole the hearts of a couple in McKinney, Texas. Lynda and James have no other dogs but Lee is happily (although cautiously) living with a cat. Lee was an early Christmas present that they gave themselves. Their family and friends were excited to have a new family member to shower with love and gifts. Their adult daughters came with them to look at dogs (all three that were on their list), but Lee won everyone's hearts.
So many of you generously donated to GALT to help pay for Lee's medical care. There are no bigger hearts than those of Greyhound lovers. If Lee could, he'd certainly give you each a kiss. From all at GALT, we send our sincere and deep appreciation.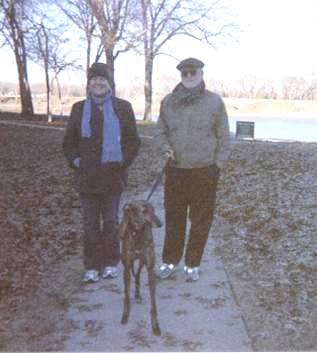 James, his daughter, and Lee!