Lee is a dark brindle greyhound who was found as a stray outside Paris, Texas. GALT received the following email from the kind woman who took Lee in:
A brindled greyhound was dumped about a mile from my home at least 2 weeks ago. I live in the country and am used to taking in dumped dogs. My family and I tried desperately to catch this dog, but it was too scared and would run from us every time we got near it. On Mother's Day, when we came home we noticed something moving in one of our dog houses (yet all of our dogs were out) and we found this greyhound inside in HORRIBLE shape. We are still amazed at how it found us!

I really doubted that it would make it through that night - so skinny, so hungry, but too exhausted and scared to eat. Its feet were swollen and bleeding. We used a turkey baster to force it to drink some water.

One week later, the dog is still terrified to come out of the dog house. We have been doctoring its feet - they are still so swollen and hot to the touch. We really feel it needs more than topical applications. The dog sneaks out enough to drink and eat, but will hardly look at us when we talk sweetly to it.

My other dogs are not too accepting of this new dog so I've had to quarantine it to my back porch. I just think this dog is going to require a LOT more care and time than I can give it right now. Any chance you might be able to find a home for it? I live near Paris, Texas - about 1.5 hours northeast of Dallas.

Thanks in advance for your help. I have attached photos of the dog and one of its paws. All of the paws are in this condition - and believe it or not - they look better than they did a week ago! There seems to be a considerable amount of hair loss on the paws, but there is no hair loss anywhere else on the dog?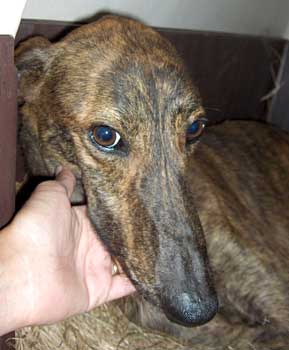 Lee was picked up the next day, May 22, 2006, after receiving the above email and taken directly to Dr. Jeff Ellis, Preston Park Animal Hospital, where his medical evaluation began. Remarkably, Lee is heartworm negative, but he is full of intestinal parasites and his initial blood work indicates he probably has one or more tick-borne diseases. The results from Protatek Reference Lab have been received, and Lee is positive to Ehrlichia. Dr. Ellis is starting his treatment immediately.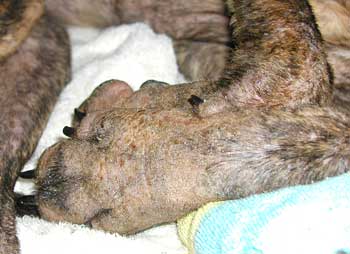 All four of his paws are grossly swollen, and Dr. Ellis highly suspects Cutaneous Larval Migrans - a condition that develops from parasites (hookworms) when an animal is kept in constant filth and feces. This is not a recent condition at all, which indicates Lee has been terribly neglected for some time. He is being treated accordingly, and his condition is monitored daily by Dr. Ellis. It will be a slow process to get Lee well. Dr. Ellis estimates Lee to be 18-24 months old, as he is not tattooed.
Update 05/30/06
Just look how much better his feet look in this photo taken yesterday! Lee still has a really long way to go though. His tick panel came back and he is positive to Ehrlichia at a very significant titer, so treatment for that has begun. He is still very, very thin also. He is receiving medicated baths and prescribed ointment for his feet, and as well as continued medication for his load of parasites.
Update 06/06/06
Lee's feet continue to reduce in size, with the skin sloughing off, and the crustiness is also getting better. The medicated baths are helping a lot with his skin itchiness and odor. He is being fed 4 times a day in an effort to put weight on him. Medications for his parasites continue to be administered, and Dr. Ellis is monitoring his progress closely.
Update 06/15/06
Lee continues to improve slowly. His feet are now red and inflamed. Prednisone was started this past week in an effort to relieve some of the itching and swelling. He has responded but it is going to take some time. The best news is that he has gained some weight and now is at 57.3 pounds.
Update 06/30/06
As you can see from the pictures below, the prednisone is helping with the swelling and redness in Lee's feet. He will be tapered off in the next week, so hopefully more improvement will be seen. We can hardly wait to trim his nails! Hair is growing on his feet, and the crustiness is going away slowly. Lee continues to be treated for his parasite load. We're anxious to get a weight on him at his next visit to Dr. Ellis, to see how much weight he has gained. It is very apparent to his foster mom, dad and canine siblings that he is feeling much better and his energy level is rising.
Update 07/26/06
Lee continues to improve; he still has parasites, which are being treated, of course.
For all of you who have expressed your concern and compassion for Lee, I, as his foster mom, am happy to report that his is doing so well. In fact he has become quite the little mischevious boy. He had a rough start as a Greyhound. The GALT Vet said he had never seen such neglect. To look at him when I first saw him was enough to send my hand flying to my mouth as my eyes filled with tears. I had never felt such intense emotions looking at a dog before. I wanted to scream with rage, hit something, and yell at someone, preferably the ones responsible for his condition. Then I took a deep breath and told myself to calm down, he needed us to focus on him, and that GALT and I did.

To watch him get better slowly, get his strength back, and gain weight has been a wonderful experience. He went from 47 pounds to 64 pounds as of last week. He has had two great collars donated for him, so now he is quite the styling young man. His feet have gotten back to normal after many weeks. He had a round of prednisone to help them heal completely, and they are all better now. He still has Ehrlichia of course and has taken Doxycycline since we got him. His titers have to get much better before he can be neutered. That will still be a while yet.

Lee has two foster brothers (greyhounds) and two lab sisters, and he thinks they are all just dandy. He loves to romp in the yard with his brothers. He knows they are higher in the pack than he is, but he is just so happy to play with them and follow them around. He is also my constant shadow, everywhere I go in the house, he follows. He will now take a treat from me with the rest of the dogs. For a long time he stood off by himself, and I had to go to him.

Trust was a big issue for him for a long time, but now I think I have won him over. I am still the only one he will come to when called. He now lets me kiss his head and scratch his ears and get lovin' with the others. Sometimes he comes up to me and stands so I will love him.

He has gotten somewhat mischevious now. He loves all the decorative pillows; I find them everywhere. He gets my things out of the closet, comes out so proud of himself, then he finds out that is a no-no. He loves anything that squeaks, he finds that so fun! And boy, can he mow through the rawhides.

He is not crated anymore as he behaves very well when we are gone. He hangs out with the sibs and chills. It has been such a great experience to take care of the little man. I have loved it, he is sooo cute and he reminds me of a teenage boy, all legs and gangly with the cutest little head. He just needs to ditch this wiry coat and then he will be spectacular.

One of these days I will have to give him up, and that will be very hard, but I will always know that I had a part in helping him get better so he can have a great life in a home where he will be loved, fed, and cared for for the rest of his life. He so deserves that.

Lee's Foster Mom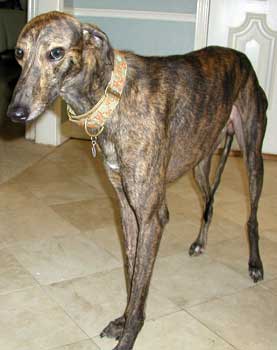 Update 08/10/06
As you can see, Lee is getting better each day. He still tests positive to hookworms, and is still being medicated regularly. Hopefully soon he will be clear of all these nasty parasites. He continues to be medicated for Ehrlichia, and will have a retest soon.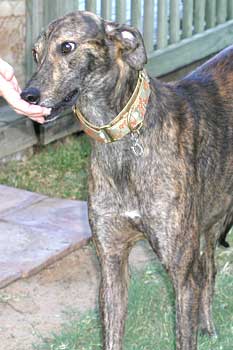 Update 09/15/06
Lee is finally clear of intestinal parasites!!! However, his Protatek tests indicate a rise in his Ehrlichia titers and also Babesia. Dr. Ellis has started additional treatments in an effort to lower his titers. It will be another 8 weeks before Lee can be tested again.
Update 11/05/06
Lee received the last of his two Imizol injections on November 3, for his Ehrlichia and Babesia, and his current round of Doxycycline will be finished soon. Lee will be retested for these tick diseases in approximately 2½ weeks. Dr. Ellis could hardly believe how well Lee looks now! Let?s just hope his Protatek tests show improvement.