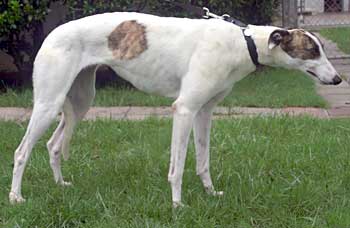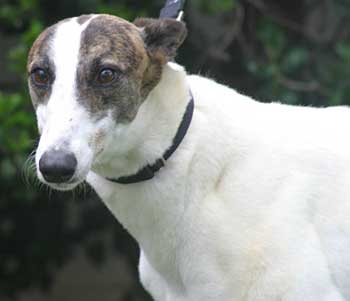 Happy, aka C's Real Happy, is a beautiful 3-year-old white and brindle female, born May 27, 2004. Her sire is UMR Lighting, making her grand sire Molotov, and her dam is SKE's Dixie G U, making her grand sire SKE's Dixiesaint...so Happy is niece to GALT's Spice Girls – Ginger Spice, Baby Spice, Sporty Spice, and Posh Spice! Happy arrived from the same brood farm that was going out of business, and Happy never had puppies. Happy shows no races to her credit according to Greyhound-Data.com. After having Happy in her foster home and being able to evaluate her, it has been determined that she is deaf.
If anyone thought this girl was shy, she's over it now. (Many are so scared when they first arrive.) While typing this, she nosed her head under my hand for some TLC.

She likes toys but doesn't shake them. She just picks one up and walks with it, gets to another one, drops the old one, picks up the new one, and then walks to the next toy. Happy gets along greyt with the three Greyhound boys here. I could tell she wasn't thrilled, but seemed to tolerate the three guys sniffing her all at once when they were let into the house. Once the initial introductions were exchanged, all was calm.

The cat testing was interesting but pleasant. She wagged her tail when she saw the new critter but backed off when Carbon, on the floor, arched and swatted. Dom did not seem to care about her and Slate was curious and wanted to make friends...sort of.

After an afternoon adventure, it's time for me and happy Miss Happy to make the trip back to the kennel. She passed her cat test, but, as always, needs close supervision when making new feline acquaintances. Another day she will have to be introduced to small dogs.

Happy's Cat Test

Happy visited the home of a potential adopter who has two cats. She had little interest in one of the cats but had considerably more interest in the white cat. She wanted to run after the white cat. Because she is deaf, Happy cannot be corrected verbally. Therefore, she may do best in a home without cats. Happy is in a foster home with small dogs and her bio will be updated when more is known about her reaction to the small dogs.

Happy's Cat Test Update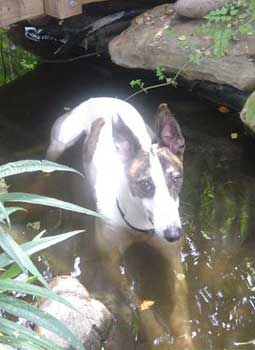 Although she is deaf, she can certainly see. A beautiful red dragonfly flew past her face and caught her eye. Up went her ears!!!