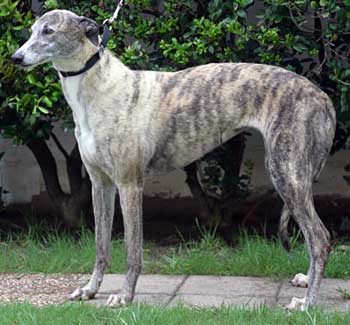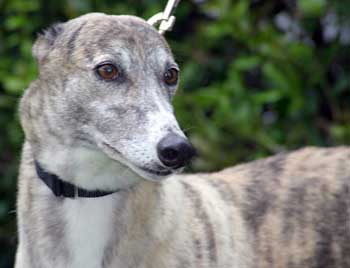 When four sisters were taken from a brood farm that was closing on July 3, 2007, it was discovered that they were born just about the time the original Spice Girls were retiring. Now, 6½ years later, both are on "tour"...the original Spice Girls to cities all over the world, and GALT's Spice Girls on tour to find their forever homes!
Sporty Spice, aka C's Shake It, is a stunning 7-year-old light brindle female, born November 19, 2000. Her sire is SKE's Dixiesaint and her dam is Midland Shandice, and she is sister to Ginger Spice, Posh Spice, and Baby Spice. Sporty arrived with her sisters from a brood farm that was going out of business, and she never had puppies. Her racing days started December 7, 2002, at Tri State, located at Cross Lanes, WV, and ended December 17, 2004, at the Birmingham track in Alabama.
Sporty showed a little too much interest in the kitty. She would not back off when Molly swatted her several times on the muzzle and was hissing and growling at Sporty. So my thought is that she is not going to be cat trainable. Although, when I dropped her off at the boarding kennel, she did not have much interest at all in the two little dogs being picked up there. So she may be okay with small dogs.
Sporty Spice is a wonderful girl who really lives up to her name. At 7 years old, she is as energetic and playful as the 2-year-old foster she's living with. She loves her squeaky toys and will entertain herself if no one will play with her, tossing them into the air and retrieving them, although she wants to be sure she gets her share of attention, food, or whatever else is being passed around. She gets along well with her housemates and has a most unique way of inviting them to play, a kind of stomping dance. She should also do all right as an only dog if she gets lots of attention.

She enjoys riding in the car, going for walks, and is well-behaved on leash. Sporty is smart and learns very quickly. Although no effort was made to teach her to use the doggie door, she decided on the second day that this must be the thing to do. She is affectionate and loves tummy and ear rubs. Sporty likes to have her way and she can get a little pushy with her humans and other dogs, but she responds well and quickly to behavior corrections. Crating isn't really necessary and she isn't fond of the crate, but once in the crate she usually settles down.

Sporty is just a very special, lovely girl, and will make a wonderful companion.

Sporty Spice's Foster Family