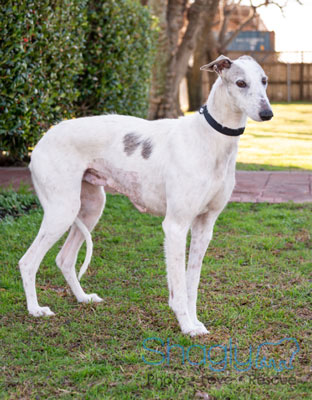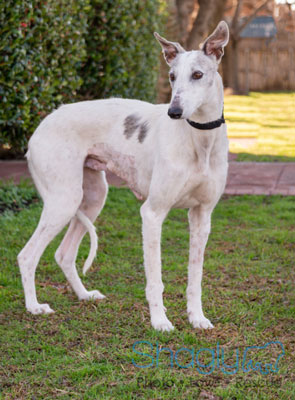 Hannah is an estimated 5 year old white and brindle female greyhound. She was surrendered to Dallas Animal Services by her owner along with Odessa because one of them "killed the rooster." Hannah arrived with a large mammary tumor that was removed by DAS, and it was submitted by GALT's veterinarians. The results came back as a grade 1 mixed carcinoma. Several other mammary tumors were successfully removed, and the pathology reported all clean margins and no further treatment is needed. However, she tested positive to heartworms in follow-up labwork and is now in treatment for that.
Hannah should not live with cats nor small dogs at this time.
Update: June 23, 2021: Hannah's heartworm treatment was successful and she is now ready for her forever home!
Sweet Hannah overcame multiple surgeries to remove cancerous growths and we are happy to report she is a survivor! This beautiful fuzzy girl is very loving and just wants to be comfortable and enjoy home life with a houseful of dogs. Two or three companions would be ideal; she has a bit of separation anxiety if there is only one other dog around.

When Hannah needs to go potty she seeks us out and does an adorable little whine so we know. She enjoys hanging on the couch with her people watching TV. She has the cutest curly tail, a slightly Roman nose and gives kisses.

She is EXTREMELY food driven and will seek out any morsels left out on the counter. It's best to make sure all edibles are in closed cabinets or the pantry. At meal time we feed her in the crate and release her when everydoggy else is finished so she can inspect the bowls. Hannah does not tolerate being crated when we leave though; she will bark, drool and will bend the crate wires. To reduce her stress, we muzzle Hannah when we go out and she calmly lays on the dog beds until we return. She does get super excited when we get home and will try to give us hugs and kisses.

Toys aren't too interesting, through watching for squirrels in the backyard is a favorite pastime. Hannah enjoys laying in the grass on a sunny day and occasionally playing chase with one of her housemates.

Hannah's ideal home will have 2 or more large dogs, no cats or little dogs, a backyard for lounging, comfortable dog beds and couches and people who will love and adore her.

Hannah's Foster Parents
Watch more of Hannah