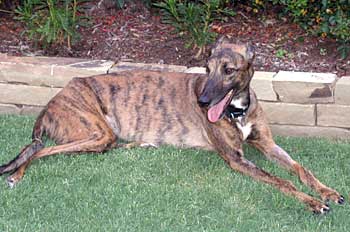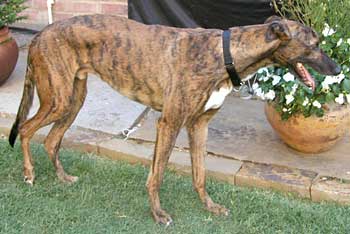 Freddy, aka Arjo Frizby, is a handsome, 6½-year-old male, born February 17, 2003. His sire is Arjo Penn and his dam is Our Candy. Freddy's racing career consists of 9 races according to Greyhound-data.org, starting August 14, 2004 in Phoenix and ending April 1, 2005, at Valley Race Park in Harlingen. Freddy was a favorite with the kennel staff at VRP because he "danced & twirled" so much – in fact, he wore himself out prior to the race so his performance was just not there – maybe we should call him "Freddy Astaire"!
Freddy was then adopted, and lived in a home with Sugarbee for several years. However, they were both returned due to circumstances caused by these economic times. He is a sweet, loving boy.
Freddy is small animal and cat tolerant.
When we first started fostering Freddy, he was very shy, and was a little sad from being separated from his home of four years. However, with a lot of TLC, Freddy has made remarkable progress in just a short time.

Freddy loves to go out for walks. Just watching and experiencing the joy he gets when he hears his leash being taken off of the hook brings a smile to your face. Right now Freddy is living in a house with another greyhound, two labs, and a Siamese cat, and he gets along great with everyone. Our Siamese cat is very vocal, and loves to make sure that everyone in the house knows where he is. We were pleasantly surprised when Freddy didn't respond to our cat's constant cries for attention, and that Freddy didn't even seem to notice the cat when he walked right in front of him.

When everyone goes out for a walk, Freddy likes to stay near the other greyhound, since she walks next to us during the walk, and isn't wild and crazy like the two labs who are constantly trying to take the lead. Freddy likes to go outside and play with the two labs, and as soon as he hears the back door opening to let the labs out, he is running to the door to catch up to them outside.

We have a pool and spa in the backyard, and Freddy loves to just stand on top of the wall of the spa and view the backyard from his "perch". All three of our dogs are crate trained, and Freddy caught on quickly, and responds to the "Go to Bed" command, and will immediately go into his crate. Freddy has not had any potty mishaps in the house.

Freddy does love to go on outings, and jumps into either our car or the back of our Forerunner with ease. Every day is a new experience for us and Freddy, and we see more of his personality coming out as each day passes. With continuing TLC, Freddy will be back to his "Freddy Astaire" ways, and entertaining all those around him. Freddy has now started to greet us excitedly when we return from a small errand. He is a greyt foster, and I know that whoever is lucky enough to adopt this charming boy will love him as much as we do.

Freddy's Foster Parents