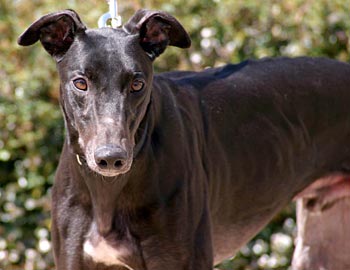 Deuce, aka Boc's Deuce, is a black, 2 year-old male born July 1, 2006. His sire is Flying Penske and his dam is B's Say So, making his grand sire the late, famous Gable Dodge. Deuce's racing career is not listed on Greyhound-data.com; however on Saturday evening, March 2, 2008, Deuce's racing career came to a full halt with the fracture of his right central tarsal bone. Deuce and Allegiance were transported together all the way from Harlingen to Dallas by GALT volunteers and arrived on March 4, when they were both evaluated by Dr. Jeff Ellis of VCA Preston Park Animal Hospital. Dr. Ellis referred Deuce to Dr. Katherine Wells of the Dallas Veterinary Surgical Center, who performed his surgery on March 6. The fracture of the right central tarsal bone was stabilized with two screws. Deuce's leg is now mended and he has been released by Dr. Wells, and he has completed all of his medical procedures! Deuce is ready to find his forever home!
Deuce meets the cat: Deuce with a cat is a non-issue. They met and got nose-to-nose. Deuce got to sniff the cat; the cat didn't mind. Cat walked down the hall. Deuce couldn't have cared less.
Deuce meets little dogs: Deuce is also small dog tolerant - a Chihuahua and Yorkie did not phase him in the least.
Blazingly shiny Deuce is very nearly the perfect Greyhound. The greyhound girls in the household certainly think so. He is far younger than they are, but he happily runs and plays with them. He is completely non-agressive when he is running, so it is just fun for everyone--even the humans who are watching. Despite a previously broken leg, this boy can really corner! Here is this happy, energetic 2-year-old who has never gotten into any mischief.

Deuce is learning to play with toys, and sometimes will collect many of them. He loves walks, is a gentleman on a lead, and loves meeting new people. He has learned to potty on a lead too. He has been a gentleman in the house as well, and will ask to gto out to potty.

One can often find him sleeping in a room by himself, but he is totally comfortable in a room with the girls. He is not at all demanding of affection, but he is learning to appreciate pats and rubs and scratches.

Deuce seems to be a smart boy. He has learned several words since coming to live with us: walk, wait, cross (the street), and his favorite, "out." Time to start teaching him to sit and lie down.

Deuce unfailing comes when you call him-- unless he is seriously into soaking up some rays outdoors. The boy has to maintain his beauty regimine after all.

He met the scaredy cat in our home. Clearly the cat was not intimidated, which is already amazing. When Deuce went to meet the cat nose to nose, the cat swatted him. That was the last Deuce paid any attention to this indoor kitty.

Outdoors is another story. Like so many other greyhounds, moving furry things outdoors are quite literally fair game.

So, what makes him only the "nearly" perfect greyhound? Deuce is just not much of an eater. He is still on the young, very slender side and could stand to put on some weight. However, one is lucky to entice him to eat 1 1/2 cups of food in the morning. Evenings he's more likely to eat better. The odd thing is that sometime in the middle of the meal, he really appreciates being let out to potty. He'll return to eat more, but if not let out, he's done.

Deuce is also an early riser, especially if he hears a human in the household get up. He'll sleep in for longer and longer now, but once he gets up, he wants to get out to potty "NOW."

I told you he was very nearly perfect. What makes this so much fun is how quickly he is changing and learning to be a companion. He just gets to be more fun each day.

Deuce's Foster Family