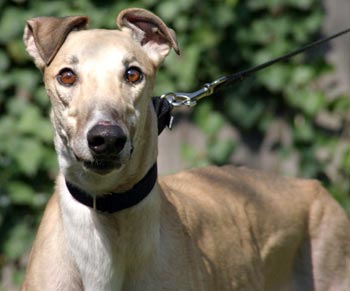 Allegiance is a handsome, 2-year-old fawn male born December 6, 2005. His sire is Jimbo Scotty and his dam is Esteem, making her siblings GALT's Adonna and Opal. Allegiance's 15-race career started November 30, 2007, at Valley Race Park in Harlingen, TX, and ended there on March 2, 2008, with a fractured right hock. Allegiance and Deuce were transported together all the way from Harlingen to Dallas by GALT volunteers and arrived on March 4, when they were both evaluated by Dr. Jeff Ellis of VCA Preston Park Animal Hospital. Dr. Ellis referred Allegiance to Dr. Katherine Wells of the Dallas Veterinary Surgical Center, who performed his surgery on March 6. The fracture of the right central tarsal bone was stabilized with two screws; however due to comminution, this was a more difficult repair. Allegiance will undergo bandage changes every 7-10 days for the next 8 weeks, and then radiographs will be taken to determine the healing of the fracture. Allegiance will be kept very quiet during this time.
Allegiance is a formidable 80-pound greyhound. Just 2 weeks have passed since his surgery and he is relaxed and calm as he watches the world from the confines of his crate, required due to his surgery. He spends most of the day sleeping, resting, and waiting for his leg to heal so he can play with the others. With utmost patience and in silence he waits his turn to be leash-walked outside to potty.

Allegiance is very affectionate. He loves to press his head and body into all for a pat and hug. When allowed to roam the house, he follows family members around and then plops down on the nearest dog bed or blanket.

Allegiance gets along very well with the rest of the canines. He is potty trained...and those folded ears (see pictures) just melt a heart.

Stay tuned for updates regarding Allegiance's recovery.

Allegiance's foster mom
UPDATE 4/21/08
Allegiance is receiving weekly bandage changes due to the sores that have developed under his cast. He has also been diagnosed with Pannus, or Chronic Superficial Keratitis, an immune mediated disease, in both eyes. Because it is in the early stages, Dr. John Warren of the Animal Ophthalmology Clinic in Dallas feels it is controllable with regular visits (every 6 to 12 months) to a veterinary ophthalmologist and daily administration of the appropriate medications for the rest of his life.
UPDATE 5/8/08
Allegiance's cast has been taken off, and he is being leash walked for the next 3 weeks. During this time, his remaining medical procedures will be completed, and hopefully he will be ready to find his forever home soon!