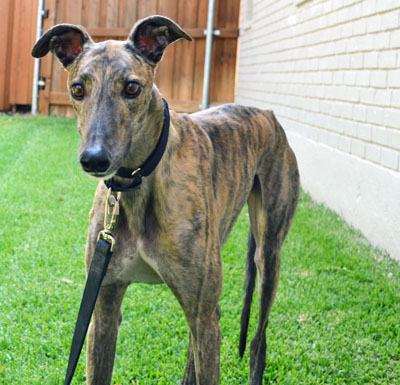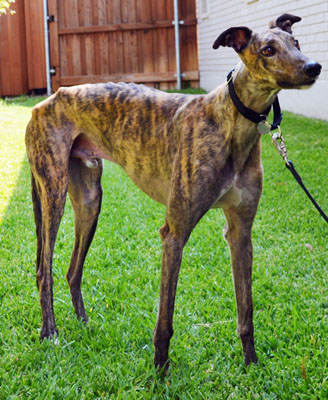 Damon, aka Bob's Damon, is a 3½-year-old brindle male born January 24, 2010. His sire is Bob's Skeet and his dam is Bob's Dateline. Damon has 73 races to his credit on Greyhound-data.com, all at Gulf Greyhound Park. His career started on July 24, 2011, and ended on December 27, 2012. Damon broke his leg at Gulf Greyhound Park on March 14, 2013 with a central tarsal bone fracture. Damon is scheduled for surgery to repair his leg at the Dallas Veterinary Surgical Center on Wednesday, March 20.
Damon is littermate to Dutch, who suffered from the same type of break a month prior to Damon. Damon should not live with cats.
UPDATE 3/22/13
Surgery was performed on March 20 by Dr. Bob Radasch for the repair of a torn plantar ligamentous structure between the base of the calcaneous and the plantar aspect of the 4th tarsal bone on Damon's right hock. Stabilization was provided by placing a 78 mm long, 3.5 screw down the calcaneous and into the 4th tarsal bone base. In addition an interfragmentary wire was placed through tunnels in the mid aspect of the calcaneous. It now will be 10 weeks of rest and quiet with weekly bandage changes for Damon. At some point in the future, the screw may have to be removed if irritation arises. Dr. Radasch feels the surgery went well technically.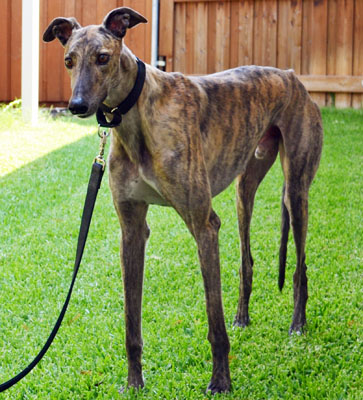 UPDATE 5/31/13
Damon's cast and bandage were removed on May 15th, and it is hopeful that the plantar ligament injury has successfully healed. He will complete his medical procedures in the near future.
UPDATE 7/14/13
Damon has completed his remaining medical procedures, and is ready to find his forever home!