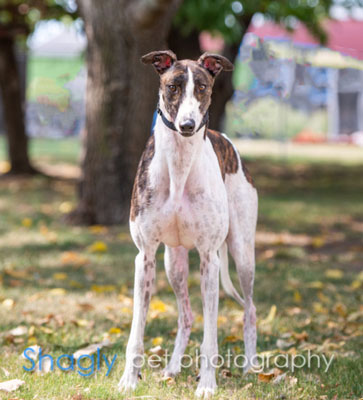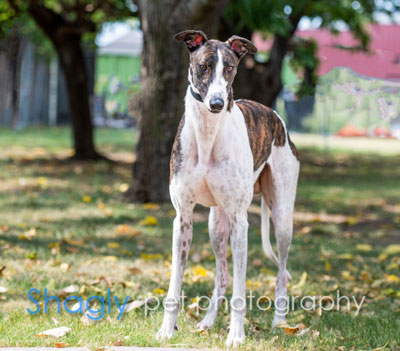 Buddy, aka My Mate Buddy, is a 3 year old white and brindle male born November 30, 2015. His sire is Eyes Loaded, and his dam is GALT's own Australian born Jessenia Bale. Buddy has 39 races to his credit on Greyhound-data.com, starting at Wheeling Downs on July 20, 2017, and finishing at Palm Beach on May 19, 2018. This sweet and fun boy is ready to find his forever home! Buddy is small dog tolerant, but it is not known at this time if he is cat tolerant
Update: 11/21/18:
Buddy has broken the third digit on his right front foot. He is being kept quiet and hopefully it will heal within a month.
Update: 2/4/19:
Buddy's toe is now healed.
There are a number of websites, including greyhound-data.com, that allow you to trace the pedigree and racing history of registered greyhounds by looking up their racing name or their sire and dam.
Buddy is a big handsome guy with a personality to match. He has soulful eyes and loves to hang out in the same room with his people. He loves face rubs and ear scritches, and gives little kisses in return. Buddy adores toys and will happily collect one, play with it and then get another from the toy box. He's mostly gentle with his toys and he's been known to take them outside as well. Lately he's developed a "thing" for shoes so we are having to remember to put them away or they too will be found on his bed.

Buddy broke a toe on his back foot and while it hasn't healed completely, it doesn't bother him. We still keep him from doing zoomies though he will sprint out the back door to check for squirrels or bunnies. He likes to sleep in the same room as his people and is a morning dog - up by 6:30! Buddy is quite the champion eater -and he can tell time! If breakfast or dinner is a little late, he will definitely remind you. He gobbles his food and then checks to make sure everydoggy else has cleaned their bowl - his motto is no morsel left behind! While he's crazy happy about treats, he takes them very gently.

When not eating or playing with toys, Buddy can be found snoozing away on a dog bed. On occasion we have found him curled up on a chair, though not very often. If another dog gets too close to his bed he will growl to make sure the others back off.

Buddy can be a bit vocal and will bark to get your attention. This dude is the laziest roo'er around. He may not start the song of his people but he will chime in when a video is played! He's quite a sight to behold. Buddy's one bad habit is not giving us signals when he has to go outside to pee. He sports a belly band whether we're home or not. He's been checked and there's no medical condition, it may be the number of boys in his foster home.

If you're looking for the life of the party, Buddy's your boy. He will make someone a fabulous companion!

Buddy's Foster Parents
Watch More of Buddy