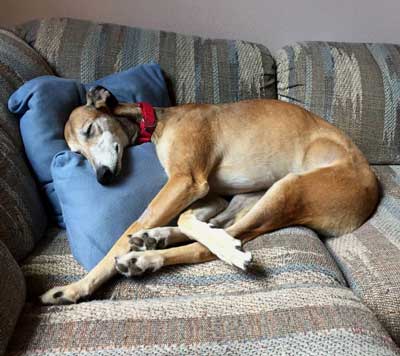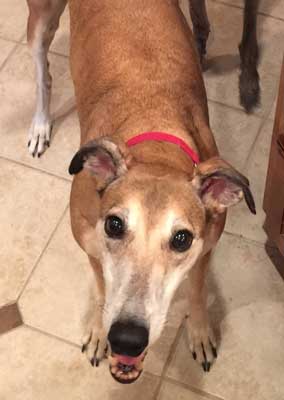 Torrie -- f/k/a Victoria – GALT Tag #2425
A Tribute to Torrie by Cher Imrie
When our boy Blazer passed in 2016, we wanted to do something that would create a legacy for him. But we didn't know what that would be. One day, in looking online at GALT's injured reserve pups, I came across Victoria, a petite pup who had spent her life as a coyote hunter. She had some nasty cuts, the notes said probably caused by barbed wire. But what I noticed most, was her eyes. I had never seen such sad eyes. There was no light, no hope, no glimmer, really no nothing. Just vacant. In those eyes, I saw a pup who had given up. It was so sad. But right then I knew how we would honor the memory of our Boy. "Blazer's Guardian Angels" was born, and Victoria was the first GALT injured reserve pup to be part of the program.
In addition to the injury on her chest, Victoria had Ehrlichia , hookworms, a fungal infection on her skin and an eye infection. When all that healed, she was diagnosed with ringworm around the eye. So, from May to December 2016, Victoria was healing from all her medical issues. Finally, she was ready for a family , but sadly no one came for her. Finally, finally it was her time. Her new parents came for her!!! Oh, Happy Day! (It could be said that Victoria was waiting for a Mom with her same name!!!! ) And so it goes. Love is patient. Vic became Mom, Doc became Dad and Victoria became Torrie. Family life agreed with Torrie and she enjoyed the comforts of a home and a loving family. When I saw her new pictures, the change was amazing and wonderful! Torrie's eyes were no longer sad. Love heals.
Now, as all kids do, Torrie gave her parents a few challenges, but together they resolved things and grew stronger as a family every day. Love doesn't dwell. She proved to be an adventurous pup and even left her own yard one time when her parents were so far, far away in another land. She scared them so much, they rushed home to join in the search for her. Several long days and sleepless nights later, she decided it was time to come home. Her parents and all the GALT family celebrated her safe , though a few pounds lighter, return. "But Mom, she reasoned, I had to go look for you when you left us!" Love is blind.
The saddest day of a pet's life is the day we must say goodbye. Torrie got sick recently and took a turn for the worst quickly. She had suffered so much in her life before them, her parents couldn't bear to see her suffer again from a disease that wouldn't get better. And so, they made the most agonizing decision to let her go before she got even sicker. Love is selfless. For us who knew Torrie, we cried with Doc and Vic. I envisioned Torrie at the Rainbow Bridge with my boy Blazer, her Guardian Angel, along with others, greeting her and showing her the ropes. I'm so sad she had to leave so soon. But I'm so grateful to her parents for giving her the most awesome home and family. I know that's what she left this earth remembering.
Dear Torrie girl, fly high and remember to watch over all the ones on the earth who love and miss you so much.
Love is remembering the wonderful times with our family.