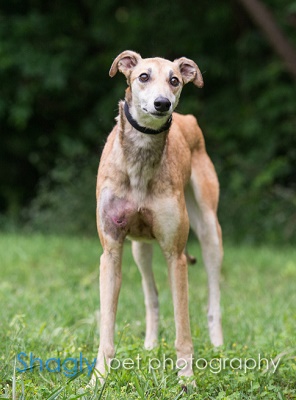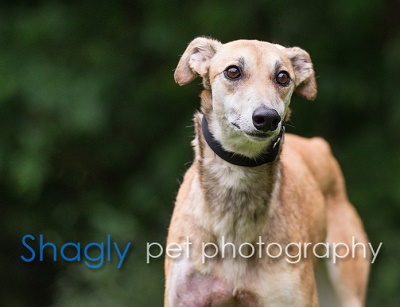 Victoria, a 5 year old small fawn female, was surrendered to the Animal Control officer in Tulia, TX by a coyote hunter. She is tattooed as 22C and her registration ear is double tattooed and illegible. She has a large open wound on the right side of her thorax, most likely caused by a barbed wire fence. She is currently being evaluated by Dr. Jeff Ellis of VCA Preston Park Animal Hospital. She is very thin and has skin issues, as well as an infected left eye. All of her medical tests are pending at this time.
Victoria is not considered cat or small animal tolerant at this time.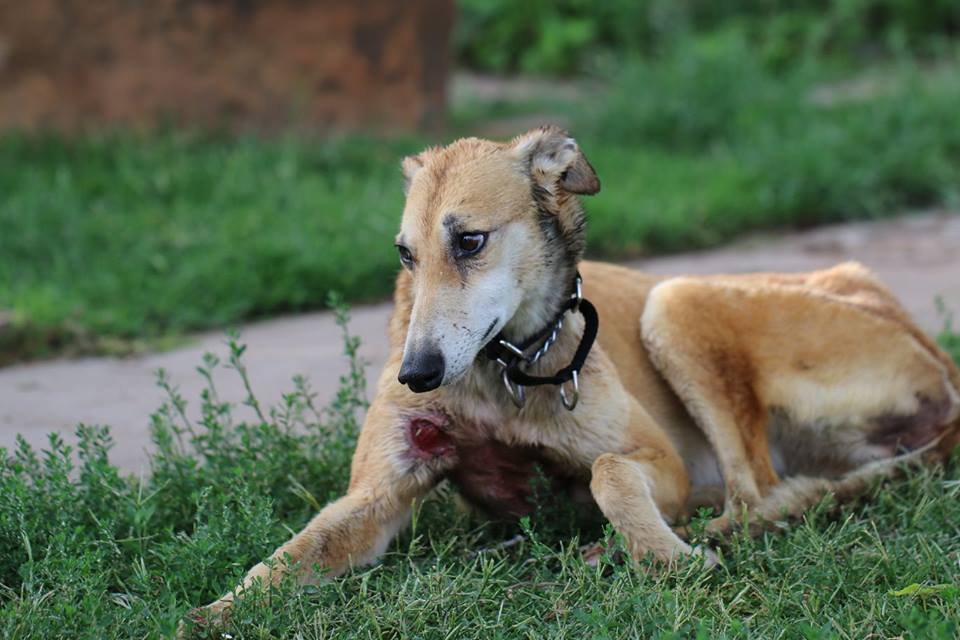 UPDATE 5/10/2016
Victoria has a positive high titer to Ehrlichia Canis, as well as a high parasitic infestation of hookworms, and a fungal infection on her skin. Medication for all has been implemented. Daily cleansing of her wound and application of medicine has started.
UPDATE 6/8/2016
Victoria is being treated for a positive titer to Ehrlichia Canis, as well as a skin rash. Her wound has finally healed, and she will have quite a scar. Her treatment should last about 8 weeks.
UPDATE 6/10/2016
Victoria's wound is now completely healed.
UPDATE 7/9/2016
Victoria has completed her treatment for Ehrlichia Canis and has a negative PCR test as well as a negative fecal. She will be scheduled to complete her medical procedures as soon as her skin infection is cleared.
UPDATE 8/23/2016
Victoria's skin infection is cleared up. She has completed all of her medical procedures and is ready to find her forever home!
UPDATE 9/27/2016
Victoria has been diagnosed with ringworm around her left eye. She is currently undergoing treatment which will last at least 30 days. She will be re-evaluated at that time.
UPDATE 10/25/2016
Victoria continues with her treatment for ringworm for another 30 days and is scheduled for another evaluation the end of November.
UPDATE 12/2/2016
Victoria's most current skin scaping and testing reveals that her ringworm is totally cleared up! This girl is Finally ready to find her forever couch!
Watch more of Victoria
Sweet Victoria is a petite, dark fawn greyhound. She arrived with a serious injury and did not exhibit any awareness of her wound. She didn't mind wearing her protective cone and T-shirt, and would patiently allow her medication to be applied without any protest. What a little trooper!

Victoria is a very quick learner. She picked up on the doggie door in about 5 minutes and has never had an accident in the house. Walks are so exciting for her. She does well on a leash and loves to sniffeverything. Doggie treats are heaven sent (she told me so), and dinner time is cause for more celebration. Her fondness for treats should make training easier. Victoria enjoys being with people; so much so that when her person leaves the house she howls for a few minutes and waits by the door for a little while hoping they will return soon.

Victoria is an advocate of the Greyhound Roach, accepting scratches at any time. She can be a little shy when in unfamiliar settings, though she will soon relax and enjoy her home.

Victoria needs canine companionship in her forever home; she lived with kitties for a while and then decided it was fun to chase them into a corner – so no kitties for Miss Victoria. If you have a dog or two, extra squeaky toys, comfortable dog beds, TREATS and enjoy walks – this adorable girl will make a greyt companion for you and your pack!

Victoria's Foster Family
The special medical treatment cost needed by Victoria is why the Miss Mesa Fund was established. If you would like to help with Victoria's care, please take a moment to make a donation to the fund. You WILL and CAN make a difference in Victoria's life and the lives of other greyhounds in need of special medical care. Your help and support will make a difference - one greyhound at a time.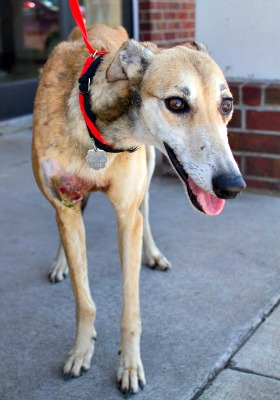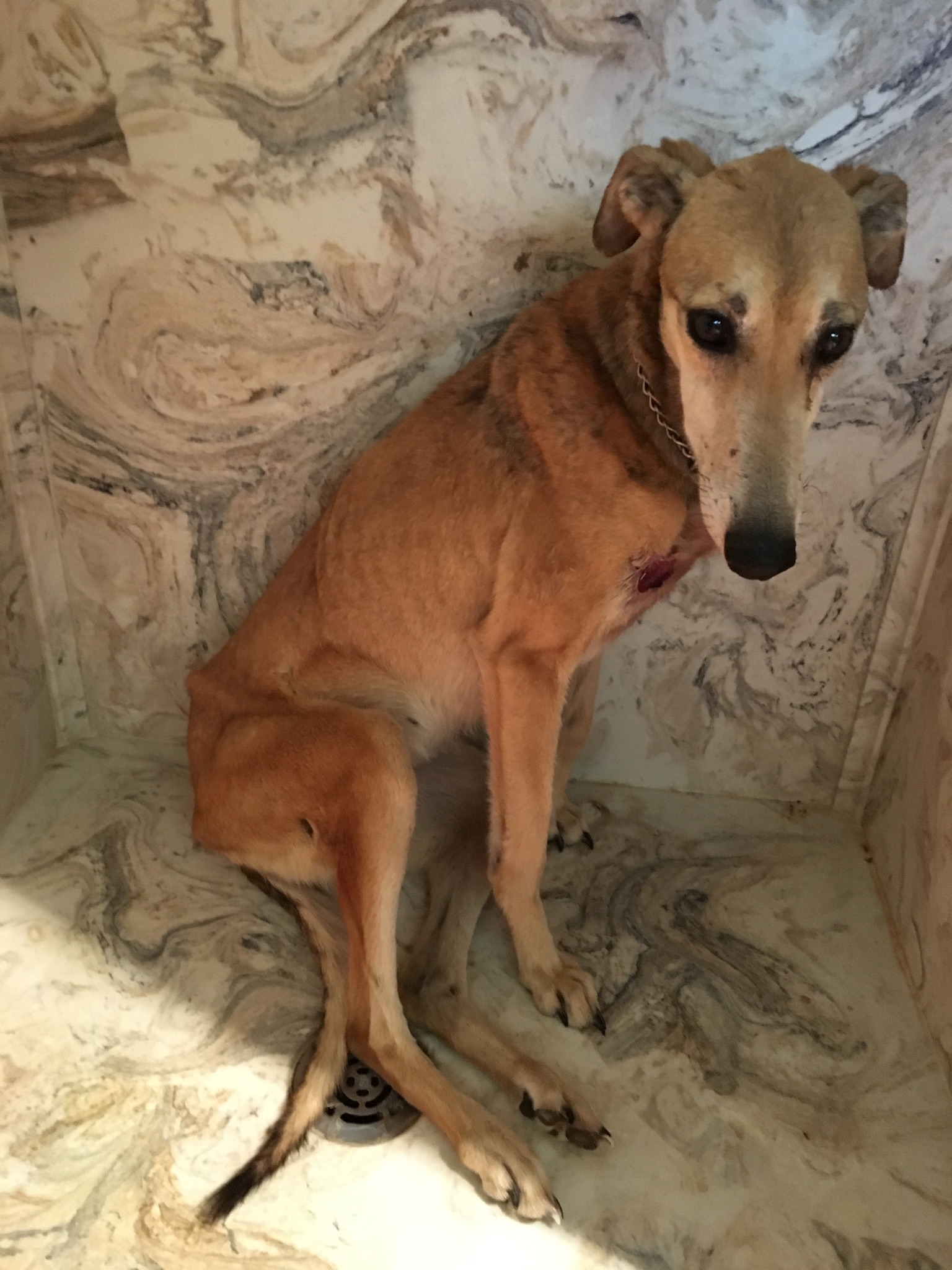 Through the GreytStore

DONATE

Through PayPal

By Check

Greyhound Adoption League of Texas
3400 Carlisle St, #310
Dallas, TX 75204

Please note Miss Mesa Fund/Victoria on your check.