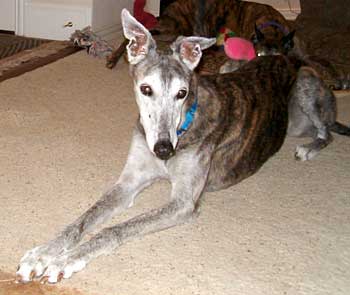 Shirley, aka Shirl Girl, was my very first foster dog. I got a call from GALT that a 10-year-old female was being released due to problems with a rambunctious 3-year-old child who had jumped on her while she slept. So, through no fault of her own, Shirl Girl was now looking for her second Forever Home. She quickly took over my home, insisting on sleeping on my bed, snuggling up to the pillows and holding them fluffed up between her front paws. One of my favorite photos is of Shirl doing just that. She was my only foster dog who got so excited to see me, or anyone, that she jumped up on her hind legs and twirled! She was a beautiful ballerina, and she had the most adorable Happy Dance.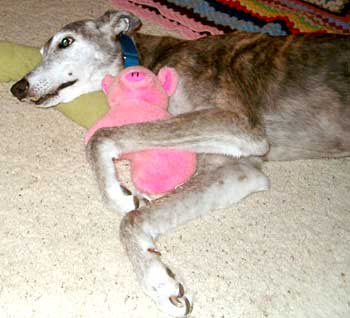 Then, too soon, I was told that a couple named Shelley and William Latta wanted to meet Shirl, having lost their Heart Dog Lucky. The meeting was magical. My own 11-year-old greyhound Mandy came with me and Shirley. Both girls were treated to love and snacks and adoring attention. Shirley found a home, I found wonderful new friends, and Mandy found a fan club. Both girls hated leaving the Latta's home. Days later Shirley became a Latta, and went on to live 4 more years in the most loving, caring, and adoring household. My own dogs didn't have it this good! Over the years I was able to see Shirley regularly, and the Lattas adopted 2 more GALT greyhounds: Chickadee (Kadee) and Zuki. Shelley and William always made me feel welcome in their home, and kept me up to date with all of Shirley's adventures. They even video-taped one of her amazing Happy Dances so I could experience her joy again. No one Happy Danced like Shirley.
Shirley Latta was born in August 1992, adopted to her Forever Home in August 2002, and died in August 2006 in the exact same spot that the Latta's dear, beautiful Lucky died. Shirley had just returned home from a minor procedure at the vet, and seemed to spiral down very quickly. We will never know what happened that day, but we are all richer for having known Shirley and for having each other. God Speed to our Shirl Girl. Run like the wind with Mandy. Catch the bunnies and Happy Dance. We will see you again some day.
Love, Foster Mamma Lisa