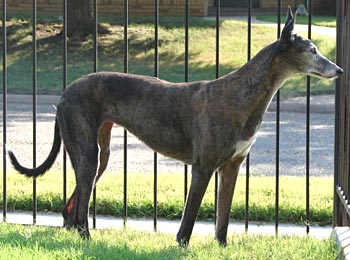 Our sweet Paula ended her journey here with us today and joined her friends at the Bridge. She was diagnosed with Lymphocytic Leukemia in mid December. We knew her time was drawing near as she was becoming increasingly tired, exhausted. Then when a tumor appeared suddenly, overnight, (Hemangiosarcoma) we knew we had to let her go. Although she never complained, we knew she was in pain...that was typical Paula, she never complained about anything, ever.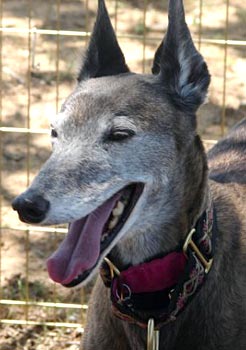 Paula was a career girl; she was fast at the track, then a proud mom to twenty pups and then joined our family for her golden retirement years. Paula was a delight to have in our greyhound family! She was easy going, very laid back, undemanding, patient, smart and always quick to flash her beautiful smile. Paula loved to lay out in the sun, stretching out in the grass for a nap then returning indoors all toasty warm and smiling. She especially enjoyed dinner time and would always help out by cleaning all the dogs' bowls. Any opportunity to visit with people was a pleasure for Paula, she never met a stranger and always had a big smile for everyone.
We will miss our angel girl, Paula...enjoy the sunshine, sweet girl, you will always be in our heart.
Marian and Lonnie Jones