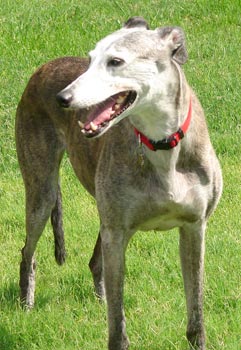 Oprah came into our lives in October 2005. Oprah was dark brindle with very soulful, expressive dark chocolate brown eyes set on her beautiful white face and she had a lovely black shiny needlenose. She had worked in the racing industry as a brood matron and then changed careers becoming a life saving blood donor. Oprah retired into the loving arms of GALT and then became our "chip" hound, and as we all know, like a Lay's potato "chip" you can't have just one...greyhounds are addicting and should come with that warning!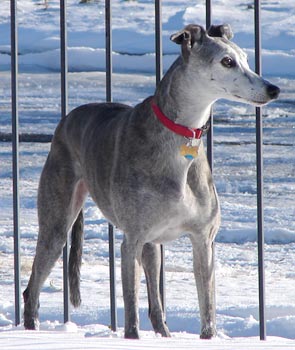 When we journeyed to Dallas to bring Oprah home, we pulled up in front of her wonderful foster home and this older yet beautiful greyhound, Oprah, stepped out onto the front porch and promptly fell off. It broke my heart to see her struggle to regain her dignity and stance. I later reviewed her records from the blood donor center and saw that she had recently injured her back during "playtime" and I totally understand how that could have happened. Oprah played. She was an instigator of mischief and play. She gained strength with time and her back improved to some degree but she always had issues with it. She was diagnosed with Lumbosacral Stenosis in September 2006. She responded well to treatment at first and we were very fortunate to have Oprah at "full speed ahead" for almost two fun-filled years.
Oprah loved to run with the pack. She never wanted to be in the lead because she loved to nip and bump the hound in front of her. Because of her LSS, Oprah's double suspension gallop, that greyhounds are famous for, was more like a rocking horse on the run. There wasn't a mean bone in Oprah's body but she loved to referee if a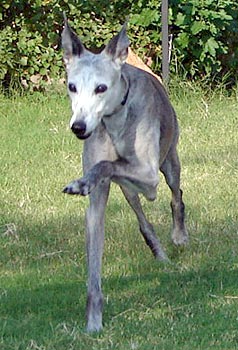 disagreement arose between her packmates. And Oprah could bark "trash talk" with the neighbor's labs all day if we would let her. Oprah loved to bark, crazy talk, and I would ask her to use her indoor voice, please (because her outdoor voice was way too loud!) and she would! She would turn her head away and cut her eyes toward the one she was talking to and almost whispering, tell them a story...and the stories she could tell! Oprah was also our dinner bell. She always let me know when it was time to fix breakfast or dinner and she never used her indoor voice for this job. She loved to eat...on time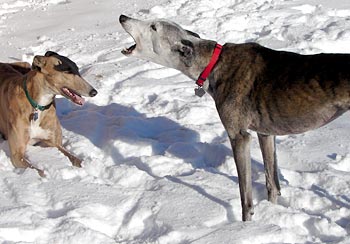 Oprah enjoyed her packmates and the foster greyhounds that came through our home and endured life with our pesky cats with no complaints. Oprah loved to stomp stuffies and would ask nicely for us to toss her one so she wouldn't have to track one down herself...we always accommodated her because to see her acting goofy always made us laugh. She was a clown!
Oprah was a proud, stoic lady that graced our lives and enjoyed her time with us. We miss her so much but know she is pain free now and can run with the angels and stomp stuffies all she wants and dinner is always on time. If you are thinking of adopting a greyhound please consider a senior hound...their hearts are so full of love and they need so desperately to share it with you. Yes, it hurts to lose one but the joy of seeing one of the older hounds enjoying their golden years with no worries is very fulfilling and so worth it.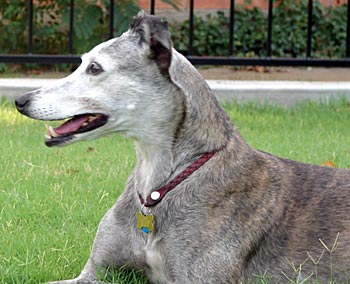 "It came to me that every time I lose a dog they take a piece of my heart with them. And every new dog who comes into my life gifts me with a piece of their heart. If I live long enough all the components of my heart will be dog and I will become as generous and loving as they are." ~ Unknown ~
Oprah was my heart hound. Godspeed Oprah.
Until we meet again,
Marian and Lonnie Jones