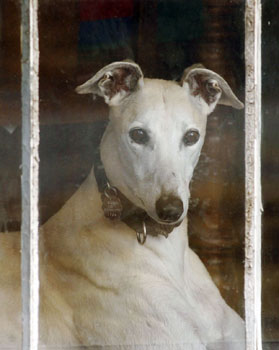 It was at our second meet and greet that my wife, Jackie, made eye contact with Macho and he pulled her into his big soulful eyes. He also pulled her right into his heart as likewise he was pulled into hers. She told me that she saw something deep in him and wanted to adopt Macho. He was lying back from the crowd and the rest of the Greyhounds but did let Jackie pet him. I tried to pet him but he would shy away from me. Suzanne, his foster, explained that he had been abused by a male at some point in his life but she reassured us that he would come around once he got to know us. Suzanne informed us that Macho had not been cat or small dog tested. As we have a Rat Terrier and two cats we would have to wait until he passed his testing before we could adopt him. We did however, adopt Lady who we met at a meet and greet in October and waited patiently for Macho's testing to be completed. Fortunately for us he passed his testing and we brought him home in December of 2009. It did not take him long to adjust to our home and other pets. In just a short time he began to warm up to me and let me experience the real Macho. He shared his playfulness, smile, Greyhound hugs and most of all his love. What an unexpected surprise it was getting to know him and sharing our lives with this wonderful dog. It is with great sadness that I must inform those who knew and fostered Macho that he is no longer with us. He lost his battle with lymphoma.
Macho has passed over the Rainbow Bridge. Our beloved big boy blessed us with his love, devotion, playfulness, joy and wonderful spirit while he was with us. His soulful eyes pulled you into a special bond with this wonderful big boy. We will cherish every moment he shared with us. We owe him so much for the countless memories of arriving home from work to see him peering out the front window, opening the door to be greeted by his excitement and "happy dance." His smile and wink would let you know that he was connected to you at that moment. We will always remember his picking up a squeaky toy first thing in the morning to take outside with him and running around the yard with a toy hoping for us to chase him or play fetch. His special affection with our other Grey, Lady, and his checking on our cats and Ethyl our rat terrier will always be remembered.
We will miss his affection, his leaning on us when he was being petted and his big kisses will be with us forever. We will also miss his lying on mother earth and having father sun warm his bones. The Great Spirit can now enjoy Macho and has removed him from his pain and suffering. We know he is now in a better place free of the pain and the fear he experienced in his physical life. We are blessed to have the time that he shared with us and will always remember our "Special" Macho.