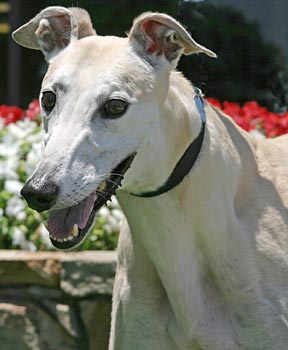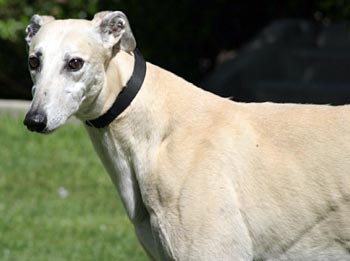 Macho, aka KD Bluberry Hill, is a handsome, 8-year-old white male greyhound born August 24, 2001. His sire is Dominator and his dam is Gable Limited, making his grand sire Wigwam Wag. Macho's racing record shows 32 races to his credit starting February 17, 2003, at Geneva Lakes in Wisconsin, and ending there on August 22, 2003. Macho was turned into an all-breed rescue group in Gainesville, TX, on March 27, 2008, by an individual who did not want him anymore. So his whereabouts these last 5 years is unknown; but one thing for sure is that Macho has had a rough time.
Macho arrived positive to Ehrlichia. He was treated accordingly for 10 weeks under the care of Dr. Jeff Ellis and Dr. Christy Soileau of VCA Preston Park Animal Hospital. Because his titer did not drop the required two dilutions, Macho was then given a PCR (Polymerase Chain Reaction) test performed by North Carolina State University College of Veterinary Medicine to determine a positive or negative result for an active infection. Macho's test was negative, so he is ready to find his forever home!
Macho has two previous broken hocks, with the right hock being the worst. Dr. Ellis referred Macho to Dr. Bob Radash of the Dallas Veterinary Surgical Center to review his previous broken right hock. Dr. Radash does not recommend surgery at this time as the hock has calcified substantially.
Macho's cat test: Macho really doesn't care about cats. Domino was walking all around him when he first entered the house and Macho wasn't interested. He obliged us by at least briefly sniffing one of the cats when his muzzle was removed. He was eventually allowed free reign of the house. According to his foster, he's fine with small dogs. We always advise close supervision when introducing a dog to a new household with other pets.
Macho has been with me for about two weeks (as of 8/22/08), and when he arrived he was a little on the timid side and slow to approach. He disliked going into his crate and while we are unsure what happened to this sweet boy for a number of years, the crate may have been a negative for him.

He is warming up to all the attention and he's the BEST BOY. He has not even thought about having an accident in the house. He loves his kibble and looks forward to meal time. He's feeling more comfortable and some of his loving personality is showing through with a lot TLC. Although, he sometimes still hangs his head, he is responding very well to all the attention. He LOVES a good neck rub – he just leans into you with his entire large body and about knocks you down. This is a very good sign that he is starting to trust humans again.

I have to brag on him - after ten days of resisting going in his crate when I leave for work, I called him this morning and he surprised me by strolling into his crate on his own. This, of course, brought tears of joy to my eyes and lots of praise for the big guy (I think the cookie helped, too).

Keep your eyes open for him at the meet and greets – this may be another challenge for him.

A little update:

Macho is starting to come out of this shell more each day. He is readily playing with stuffed toys and has learned to "sit" – sometimes those cookies are just good enough to motivate him.

He is a very strong boy and continues to show his uneasiness on a paved area – but loves his grassy knolls.

It has also been determined that Macho will do best in a home without other male dogs.

Macho's Foster Mom