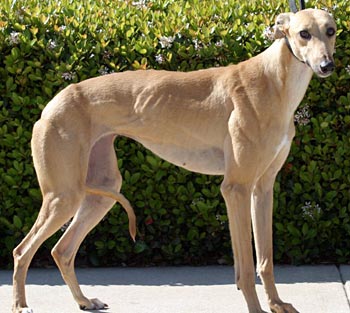 Diva Eastridge, 10, passed away peacefully on Saturday, September 24, 2016, with her mommy by her side. She was born July 20, 2006, being named Killer Diva. She rescued her mommy in Dallas, Texas, a week after her 2nd birthday, with the help of the Greyhound Adoption League of Texas. She leaves behind her Mommy, Julie Eastridge, her Grandma, Barbara Roberts Eastridge, and her Daddy, Superman. She was also known as Baby Girl, Little Girl, Little Puddin', Diva Baby, The Deevs, Sweetie Pie, Sugar Pie, my Brown-eyed Girl, Punkin, and Little Turd. She had her mommy wrapped around her little paw and was by her side every moment possible, including waiting outside the door when mommy would be..... powdering her nose. She and her mommy were like peas and carrots. Where one was, there was the other.
She enjoyed being rubbed, staring at mommy (her way of hugging), sleeping, more rubbing, staring at mommy, more sleeping, more rubbing, staring at mommy, and more staring at mommy. She also enjoyed spending time at Grandma's house, going for long rides in the car with mommy, taking in the sights, sounds and smells of the outdoors, and sniffing other dogs in inappropriate places. She had a special bond with Superman, who devoted his time to making her comfortable and happy, and spoiling her even more rotten. Upon discovering he could not be her boyfriend because mommy found him first, she asked him to adopt her and be her daddy.
She had 242 different facial expressions, and her mommy understood every one. She loved to run, and even ran on 3 legs in her final months, not noticing cancer had taken her 4th leg. She was always a fierce warrior, overcoming severe sickness when she retired from racing before she adopted her mommy, then again when her leg was amputated at age 9, and in the last 2 weeks of her life, as osteosarcoma battled her body. With the amazing love and therapy of Dr. Will Flanigan, Allison Nutt, and all the staff at Heartland Veterinary Hospital, she was able to spend her last few months with the best quality of life possible, giving her and mommy more wonderful memories together.
She was by her mommy's side throughout all the memories formed as they lived in Dallas, Texas, briefly in Austin, Texas, Elizabethtown, Kentucky, and Nashville, Tennessee. She is also survived by her Uncle Cooper Eastridge, her cousin Biscuit, her friend Abigail (Abby) Barkley Bratton, from whom she learned to play Monkey See Monkey Do, and her crushes, Ramsey (who lives next to Grandma and turned Diva into a Cougar), the famous Cal the Greyhound (who was looking for a long-term commitment), and world traveler Dolce Gambino.
She was preceded in death by her Grandpa, James Eastridge, Sr., her Uncle Boomer, her biological parents, AA's Delta and world champion Gable Dodge.
She will forever live in her mommy's heart and leaves a greyhound-shaped hole. Run free, Baby.
~ Julie Eastwood