Cooking For the Hounds
October 19, 2013
The Mercury
Dallas, TX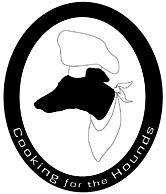 A Perennial Favorite -- GALT's "Cooking for the Hounds" -- 2013 Style!
GALT's annual "Cooking for the Hounds" event at the Mercury Grill is always a GALT fan favorite, and this year was no exception. A huge THANK YOU to Chris Ward, the fabulous Mercury Grill chef, who once again opened up his kitchen to demonstrate some fun new dishes and share his delectable food with so many GALT friends. This year's new feature -- an optional wine tasting by Calais Winery -- added a special flair and truly complemented Chef Ward's superb cuisine. This year's attendees feasted on the following courses:
Kobe Beef Tataki with Toasted Sesame Seeds and Ponzu Sauce
Tomato Vegetable Risotto
Shrimp Creole
Crepes Suzette
GALT had several special ambassadors on hand to greet the guests -- Clover, Softly and Howdy! VIP patrons – who scored seats up front at the kitchen counter – also received special tote bags autographed by Chef Ward. For the eighth consecutive year, Chef Ward generously donated the food for this event. As a result, the vast majority of the proceeds were used to defray GALT's medical expenses, which were very high in the past year due to a large number of broken legs and other serious medical problems for GALT's greyhounds. Significant funds were raised by the silent auction, which included numerous works of art, jewelry, spa packages, doggie gifts and more. In addition, the attendees got a chance to purchase some of the newest items available in the GreytStore. Kudos also to our special guest, Brady Tinker, who served as auctioneer for the live auction. Many thanks to all of the volunteers who helped with the auction and event planning. The funds raised by this event will "greytly" help GALT as it strives to live up to its mission -- "No Grey Turned Away". We can hardly wait to find out what's on the menu next year!