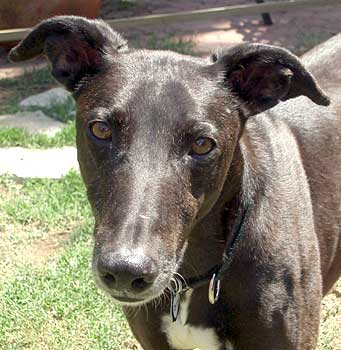 Zorro is an approximately 3-year-old black male. Zorro arrived with Trixie from Ft. Worth Animal Control on May 1, 2007. They had been confiscated from horrid conditions. Zorro was the only male found there, so we know he is Papa to Trixie's pups.
He is not tattooed so his age is estimated, and nothing of his background is known. Zorro is in much better physical shape than Trixie, who arrived heartworm positive, positive to Ehrlichia, and extremely thin. He seems to be a little timid and totally laid back.
Zorro has zero interest in cats. Well, okay, he did show a little interest, but decided he was more comfortable with a human between him and the critter he'd just met. If the cat gave him any attitude, it was very subtle because I certainly didn't see it. All three cats of the house were properly introduced and Zorro was "Uh, hi. Nice to meet you. This buffalo bone smells yummy. See ya." From there, the cats were able to stroll and lay around the floor of the house with no notice from him. He got along nicely with the other hounds of the house, too. Zorro is ready for lots of TLC and good food to put some meat on his bones.
Zorro is a very sweet and loving boy. He is on the smaller side for a boy. He is very affectionate and comes running when you call his name (there might be a treat or some lovin' involved). He loves to be petted and hugged and will stand for a long time while you do so. He has a very thoughtful gaze; we always wonder what he is thinking.

He is very food motivated. This may be the result of him being a stray. He eats very well and does not bother other dogs while they are eating, but he will snatch a treat or food from your hand. We are working on him being more gentle with this. He listens well, and if you tell him 'No!' he stops right away. He is a very smart boy.

Zorro likes toys, but is sometimes a little rough on them. He also sometimes thinks that blankets or towels or other things you may have laying around are toys. He LOVES his crate and if he is not snoozing by us we will find him snoozing in his crate. When he knows we are getting ready to leave the house he will go in it and wait for us to shut the door, sometimes up to 15 minutes before we actually leave. What a good boy!

He is good with the other dogs at our house and ignores the cats. He is a quiet boy; we have not heard him bark or make any noise at all. He enjoys going for walks and walks well on a leash. He sleeps quietly all night on a dog bed in the bedroom.

Zorro usually has good house manners. If his forever home would like him to be on the furniture with them, he would like nothing better than to curl up with you on the couch (although we don't allow that here and he is okay with that, too).

Zorro has now mastered the potty issues. He now goes to the back door and stands when he needs to use the potty. If you are not paying attention, he will run to you then back to the door. He has not had any accidents for a few weeks. And he is just the sweetest, most loving boy ever!

I think Zorro is very happy to be in a home and to be getting fed and loved on a regular basis. He loves people and just wants to be with you wherever you go. He jumps in the car and is a good rider, laying down most of the time. Zorro would be okay as an only dog. If you are looking for a very loving, very cute, easy-going boy, Zorro may be just the greyhound for you.

Zorro's foster family