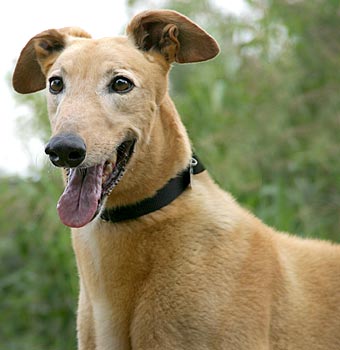 Zack, aka Gable Zydeco, is a handsome, 10-year-old red fawn male born March 28, 2001. His sire is the late famous Gable Dodge, and his dam is Seegold Panache. Zack is brother to Tabasco, and sire to GALT's own Sherman. Zack's 100-race A & AA career was some time ago, from October 22, 2003, to January 5, 2006, starting at Tri-State, moving to Wheeling Downs, West Virginia, and finally ending his career at Gulf Greyhound Park in La Marque, TX. Zack then went on to be a stud – sire to 18 greyhounds.
Update 8/1/11: Zack was taken to VCA Preston Park Animal Hospital with a swollen right knee. He was not putting any weight on the leg. It has been diagnosed as osteosarcoma, and Zack will be made as comfortable as possible and monitored in a special IR foster home.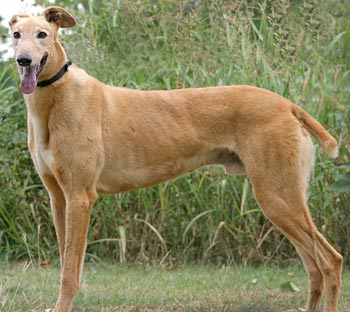 Zack is not cat tolerant and has yet to be tested with small animals. He was in a home for a few months, but has since returned to GALT and is ready to start his search again.