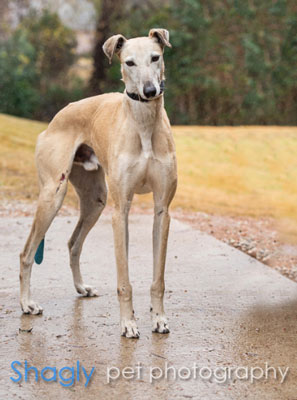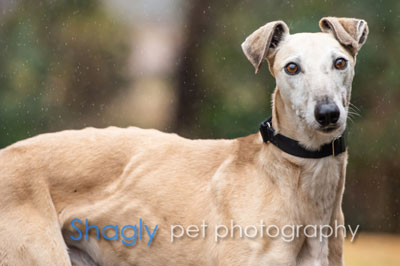 Wizard is an approximately 7 year old light fawn male. He was found as a stray in the Decatur area. Wizard is positive to the tick borne disease Ehrlichia and will go through treatment in his foster home. Wizard should not live with cats or other small animals
Wizard should be in a home where there are other dogs.
Update 2/28/2019 - Wizard is now Ehrlichia free and ready for his forever home.
Update 2/1/2020 - During Wizard's annual checkup, his bloodwork indicated that he is in the early stages of kidney disease. As such, he is on a prescription diet for kidney issues, which costs almost $100 for just under 30 pounds. It is imperative that Wizard remains on this for the remainder of his lifetime.
Watch more of Wizard
Wizard is a eye-catching boy with an easy going personality. For the first few weeks he was with us, Wizard was a bit bashful, which was understandable considering that he had been surviving on his own as a stray. Once he started getting fed on a regular basis and began receiving the love and care he so deserved, Wizard's personality blossomed and he is no longer the somewhat aloof boy he once was. Wizard has a healthy appetite and loves to get a treat after his meals.

Another thing Wizard loves is a good walk so he can show off his hunting prowess. He has excellent leash skills up until the moment that he spots prey (rabbit, squirrel), so you will always need to anticipate that he can and will respond with a powerful lunge toward his target. I mention this because Wizard is a strong boy and he is capable of breaking free from a less than firm and controlled grip on his leash. If you pay attention to Wizard's head and ears you will know when he has spotted prey and you will have just enough time to react by shortening up on the leash and tightening your grip before he lunges. This behavior shouldn't deter you from considering Wizard for adoption, it is a manageable situation and it's also an impressive sight to behold.

Wizard has great house manners and has never had any accidents in the house, and he has not done any damage either. He crates well, but will voice his displeasure for a bit until he knows we have left the house. I cannot honestly say how well he would do as an only dog because he has three other greyhound housemates living with him and he does enjoy their company. Also, I do not believe Wizard to be an ideal apartment dog because he loves to be able to go out into the backyard frequently, and as I previously mentioned, he will voice his displeasure with being crated for a few moments until he's sure we've left the house. Apartment neighbors will not appreciate hearing him voicing his displeasure.

Wizard is a wonderful boy and he wants to be your best buddy. Once he has been given a short time to adjust to life as your beloved family member, he will want to be by your side as much as he possibly can be. Come out to a meet and greet and spend a little time with Wizard, he will melt your heart.

Wizard's Foster Parents