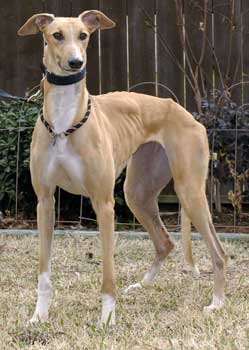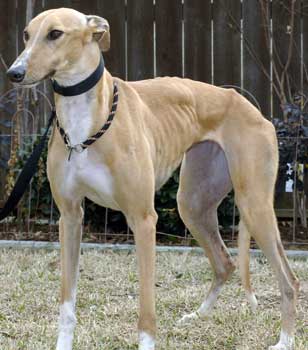 Winnie, aka Winks Winifred, is a beautiful red fawn 4½-year-old female, born February 10, 2003. Her sire is Gable Oscar, making her grand sire the late Gable Dodge, and her dam in Winks Whiperwill, making her grand sire Molotov. Winnie started her racing career in Dubuque, Iowa, on October 20, 2004, and finished at Valley Race Park in Harlingen December 8, 2006. During this time she racked up 85 races to her credit, so she is certainly ready for her forever home! Winnie is cat tolerant.
A little something about little Winnie:
Winnie might be the tiniest Greyhound you'll ever meet, but what she lacks in stature, she makes up in personality and cuteness. She wears beautiful white socks, dipped her tail in white paint and ran a small streak of that paint up her nose. This is way beyond cute. Winnie loves to eat, and will happily munch on any fruit or vegetable as well as her food and treats. She loves bananas stuffed into a Kong. She adores her walks. She is a durable walker, easily walking 3 miles. Don't be fooled by her size, she is a dynamo, both full of energy and strength. She is also assertive and can be strong willed. Winnie is also cat tolerant and well behaved at home. She is one of those adorable Greyhounds that knows how to completely relax on a bed, turning onto her back in a cockroach position. There are probably not enough superlatives to describe what a cute, fun Greyhound Winnie is. You must meet her.