Seniors are the best kept secret in the Greyhound World.
Please consider giving an older greyhound a special place in your heart!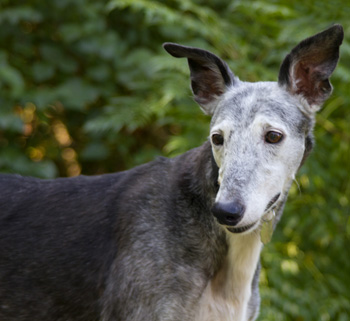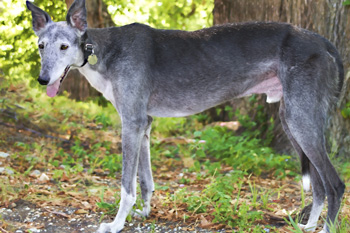 Willie is a black male with white feet. He is not tattooed, but is estimated to be 10 years old. Willie came to us via the North Texas Humane Society as a rescue from the same hoarding situation as Speedy and Tuesday. He's a friendly, happy boy who is looking forward to finding a loving forever home!
Willie has not yet been tested with cats or small animals.
His Majesty, Sir William, kindly permits us unlimited use of his personal name, Willie. When Willie arrived, he was tentative about his new surroundings. But within a week he was following us around the house asking for attention and affection. He is a master of the "more" paw when he wants us to keep loving on him. He loves to go outdoors, and is learning that digging in the yard, while fun for him, is not appreciated by the rest of the family. Willie just started playing with toys!

Willie has the household routine down pat now. After dinner and brushing, he waits patiently for his treat. He exercises his princely authority in the morning by waiting on his bed for us to bring him his after-breakfast treat.

Willie is a prime example of the depth of forgiveness in dogs. He is just beginning to "expect" regular meals, love, treats, medical care, and walks. One of the greatest treasures of having Willie in your home is being able to teach him that he is unconditionally loved, and to reap the rewards when he shows his appreciation.

Willie's Foster Mom