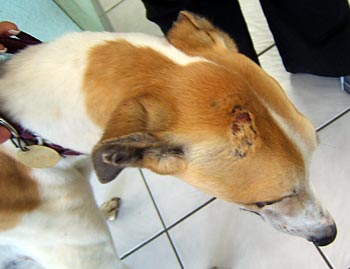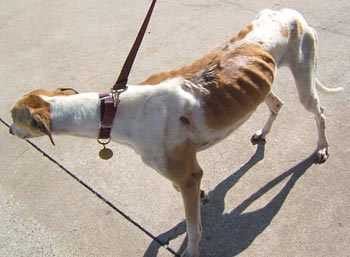 Whiskey, aka Fabulous Risk, is a 2½-year-old, white and red male born December 1, 2006. His sire is Kiowa Sweet Trey and his dam is Flying Fabulous. Whiskey was found as a stray in Ft. Worth. GALT was contacted by Ginger Leach of Ft. Worth Animal Control, and Whiskey was picked up on June 16th. Judging from where he was found, it is thought that he has been living out of garbage cans for some time. As you can see, he is in horrible condition, weighing barely 60 pounds, with numerous open sores.
He is under the care of Dr. Jeff Ellis and staff at VCA Preston Park Animal Hospital. Dr. Ellis says Whiskey should be at least an 80-85 pound greyhound. Medical tests are pending that will determine his state of health. First thing on the agenda is to get some weight on this boy. He is a boy whose tail wags and wags, and he loves to give kisses, even in this condition! It is not known at this time if Whiskey is small animal or cat tolerant. Please consider helping Whiskey with a donation.
UPDATE 6/23/09
Whiskey's health has been declining since Sunday. He became lethargic Monday morning and returned to Preston Park Animal Hospital with a temperature of 106.2 and showing clinical signs of immune mediated disease caused by Ehrlichiosis, a tick-borne disease.
He has been stabilized and is receiving IV fluids and medication. The attending veterinarians are consulting with specialists regarding further treatment and care for Whiskey.
Although weak, Whiskey is eating well and in good spirits. Please keep Whiskey in your thoughts and prayers. His condition is very critical.
UPDATE 6/24/09
Whiskey's temperature is again at 105 this morning. He is being referred and moved to the Dallas Diagnostic center to Dr. Kelly Nitsche. His condition is very critical at this time. This boy HAS to pull through - he is just the most loving, and he senses everyone is trying to help him. He MUST have a chance at what his life should be. Please, please keep Whiskey in your thoughts and prayers.
UPDATE 6/25/09
A bone marrow aspirate was performed today with the results being devastating. Whiskey, with his loving foster mom, friends and Dr. Nitsche, by his side, went to the Rainbow Bridge at 4:25 today, June 25. Run like the wind sweet, sweet boy - finally pain free.
Every now and again, a foster crosses over the threshold of our house and almost instantly we know he is different. Yes, without a doubt they are ALL special, and we would love to keep them, but sometimes there is a greyhound with that extra "spark" that we just feel.

Whiskey walked into our home one Thursday, tattered and torn – a train wreck, but the happiest boy in the world with his tail wagging uncontrollably. Unlike so many fosters, he didn't investigate or sniff out all the corners of the house – he just fit. He went right up to the other dogs, made friends, picked up a stuffy and made himself comfortable. It was uncanny how he fit; in spite of the circumstances of his discovery and his condition, he was so affectionate and loved everyone. Mostly, he couldn't stop twirling his tail from joy.

This was going to be an easy foster – we'll feed him some good food, amass tons of TLC, he'll gain weight, get healthy and in a few months he would shine like a diamond. Here I was, already fantasizing Whiskey at Meet and Greets, winning over hearts as he did ours in mere minutes. Whiskey surely would be adopted fast and this boy would have a very special family.

However, something wasn't quite right and by Sunday evening Whiskey's health had declined, he became weak and the spark in his eyes grew dim. By Monday morning Whiskey was in grave condition, descending into an abyss that he would not crawl out of until he was set free onto the trail to Rainbow Bridge.

Thank you for celebrating Whiskey. It is heartwarming to know that his joie de vie has touched so many in the Greyhound community.

Whiskey's Foster Mom, Amy