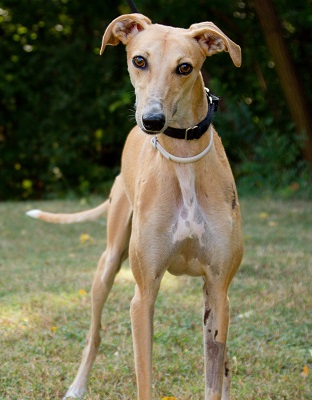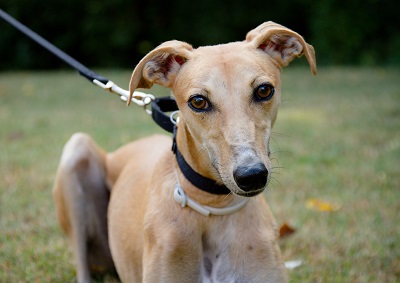 Viola is an estimated two year old fawn female greyhound. FWACC (Ft. Worth Animal Care and Control) contacted GALT on Wednesday, June 14, 2017, to take her into custody. She was found in a rural part of Ft. Worth in an open field where she collapsed after an attempt to catch her. Viola weighed only 29 pounds, was malnourished, dehydrated, covered in fleas and ticks, and suffering from extensive external wounds. Viola received initial care at VCA Preston Park Animal Hospital before being transferred to an emergency clinic for an overnight stay. The next day she was transferred to VCA Animal Diagnostic Clinic where she received 24 hour care for the next 11 days as she was in critical condition. Her worst open wounds were closed by the skilled hands of our vets at Dallas Veterinary Surgery Center. Test results revealed she had a positive titer to Ehrlichia Canis, which has now been successfully treated, she has a negative PCR (Polymerase Chain Reaction) test, and she has completed all her medical procedures. Viola is ready to find her forever home, with many, many thanks to our excellent vets at VCA PPAH, VCA ADC, DVSC, and most of all to the attentive love and care of her foster home.
Viola's veterinarians recommend her adoptive family have greyhound experience as well as proximity to the metroplex.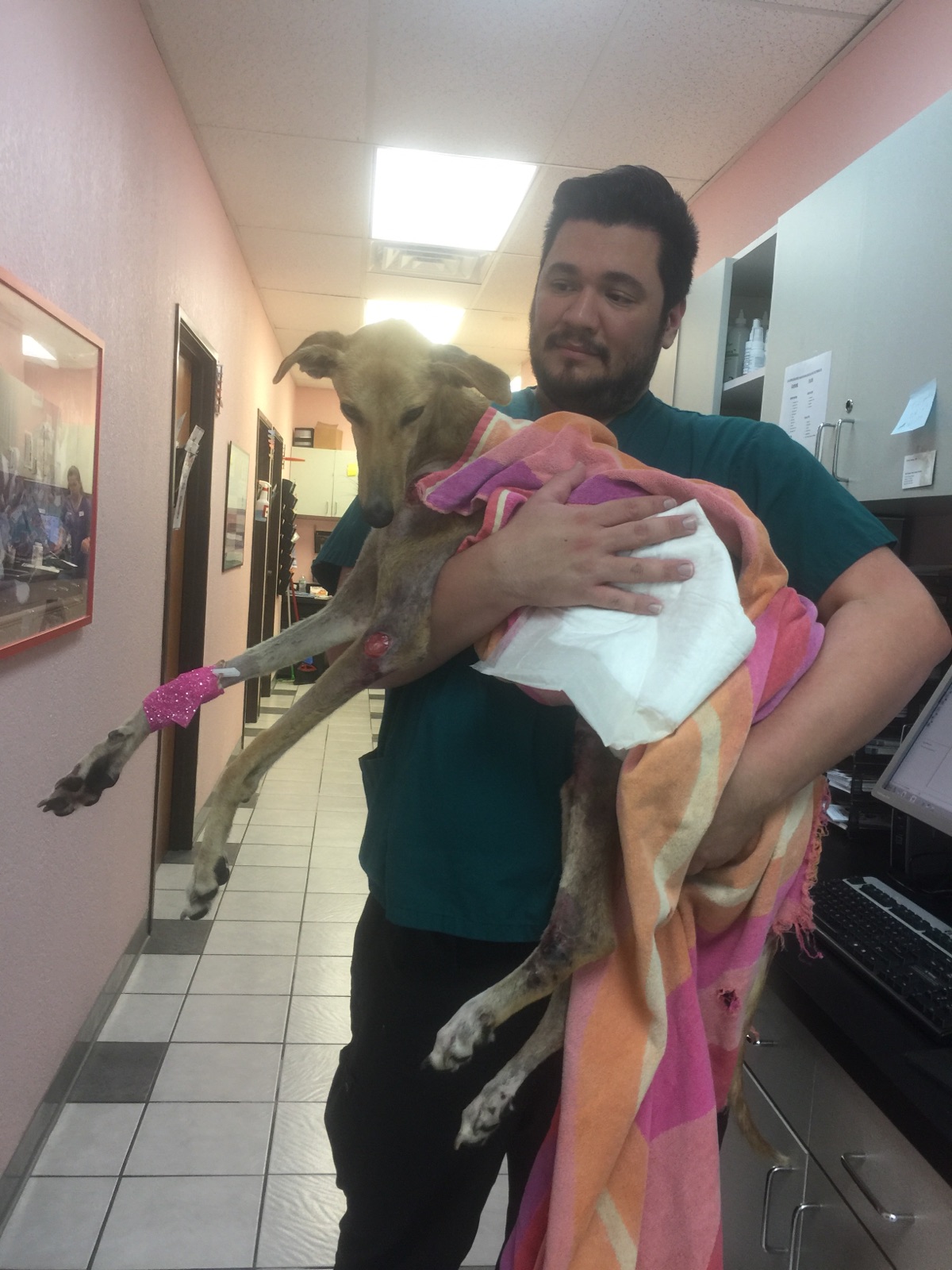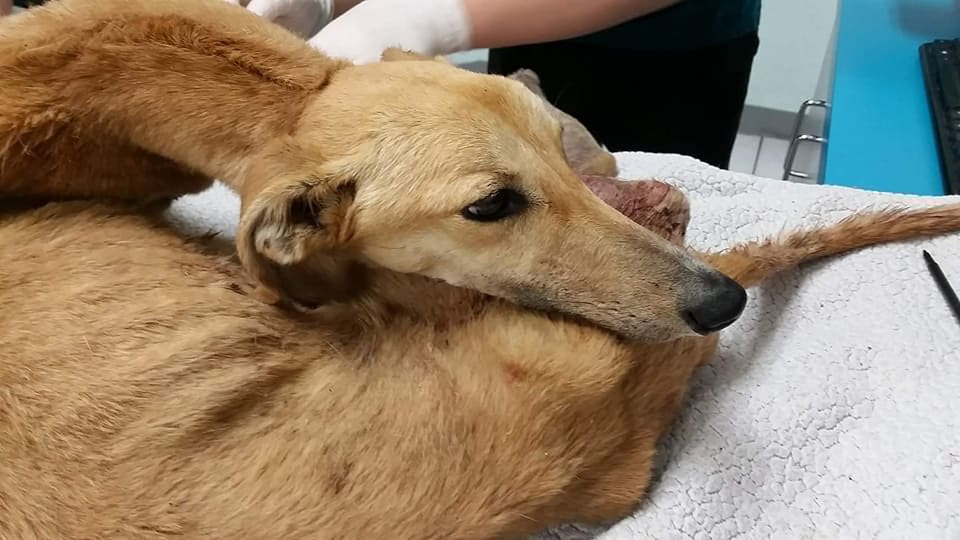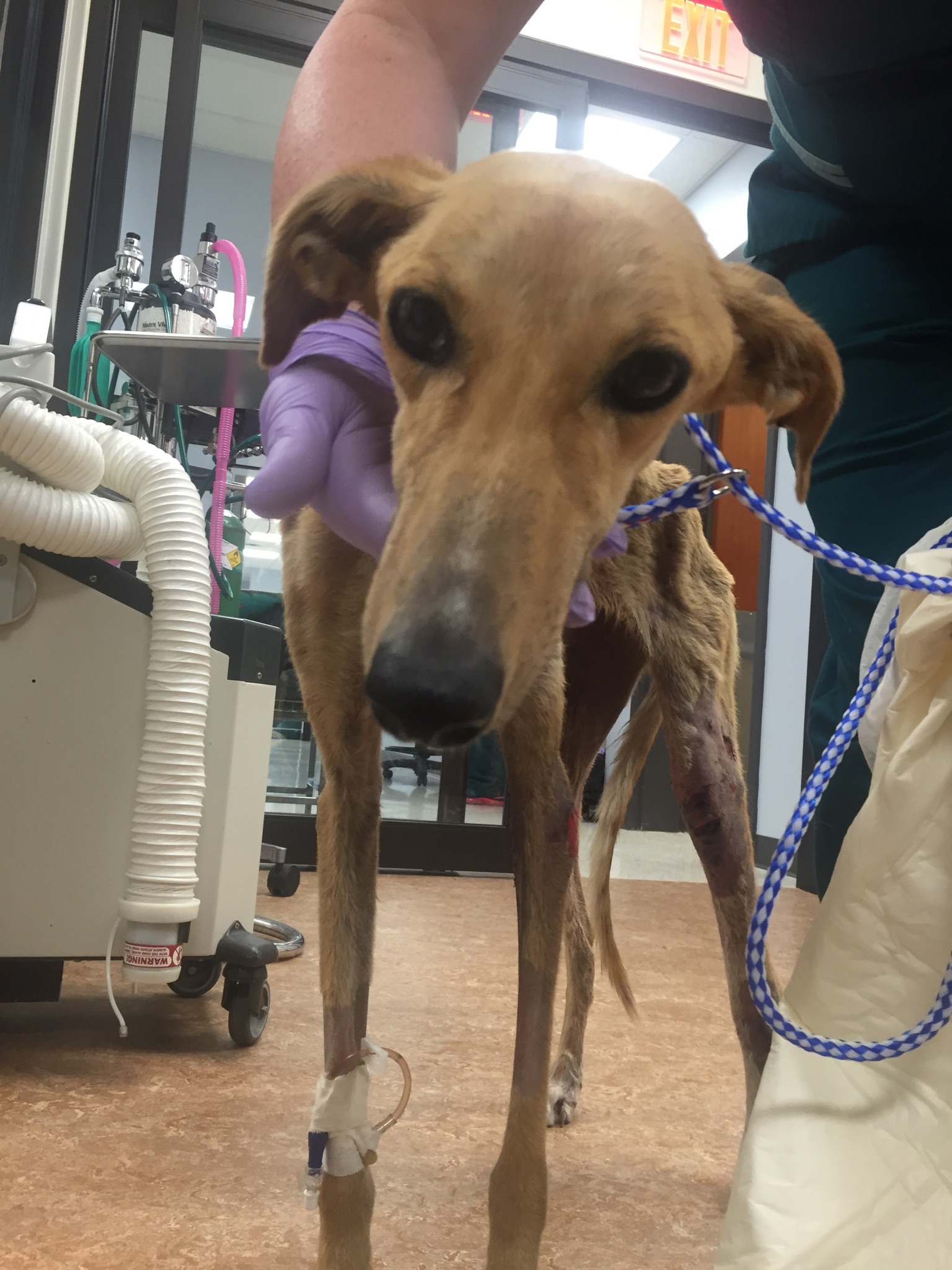 More pictures of Viola, warning, some of these are graphic pictures, Viola1, Viola2, Viola3, Viola4, Viola5, Viola6, Viola7, Viola8, Viola9, Viola10, Viola11, Viola12, Viola13, Viola14, Viola15, Viola16, Viola17
UPDATE 6/20/2017
Test results show Viola is heartworm negative, but positive to Ehrlichia Canis at a fairly significant titer. Medication for the Ehrlichia Canis has started. Her bloodwork is improving, especially her platelet count. Her weight is now at 30.8 pounds. Dr. Bob Radasch of Dallas Veterinary Surgical Center is performing surgery soon to close up the largest open wounds.
UPDATE 6/21/2017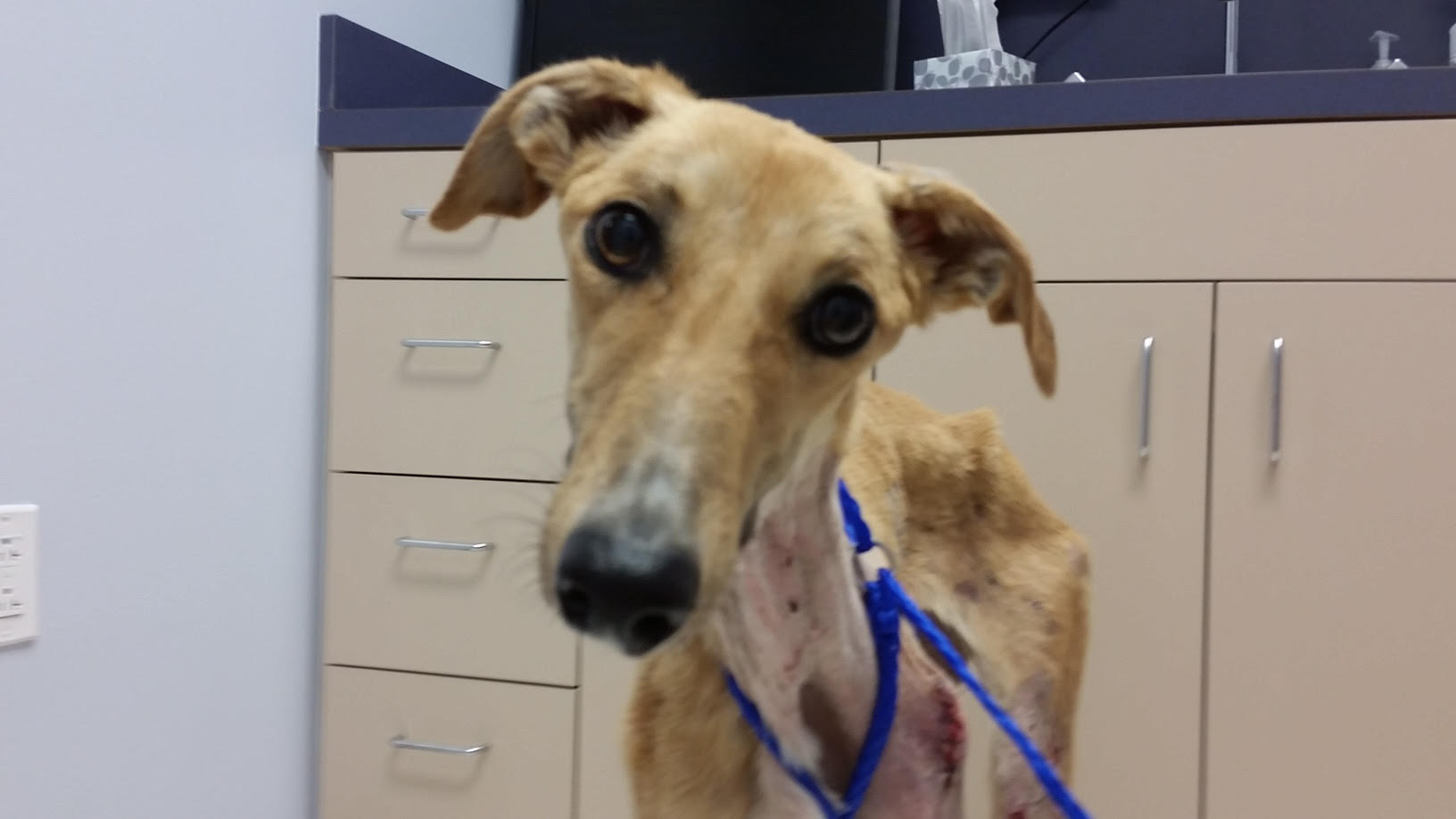 Look who's feeling better - Viola! She had surgery to close some of the deepest wounds yesterday and she looks amazing! Words cannot convey the transformation Viola has gone through in just 8 days. Even the progress in the last 4 days is monumental. The less significant, though no less horrific, open sores are closing with hydrotherapy and application of Manuka honey. The care Viola has received since she arrived at VCA Animal Diagnostic Clinic (link) is second to none. The generous support of people who have been touched by her story and have sent well wishes, prayers or donations is saving her life.
UPDATE 6/26/2017
On Monday, after 11 days of 24 hour care at VCA Animal Diagnostic Clinic, Viola was released to go into a foster home. She is receiving many small meals a day in an effort to gain weight, as well as medication for the Ehrlichia Canis. Her wounds are being managed daily, and she is enjoying the softness of the cushy bed and haven of her crate.
Watch More of Viola
Warning - some pictures are graphic!
The special medical treatment cost needed by Viola is why the Miss Mesa Fund was established. If you would like to help with Viola's care, please take a moment to make a donation to the fund. You WILL and CAN make a difference in Viola's life and the lives of other greyhounds in need of special medical care. Your help and support will make a difference - one greyhound at a time.
Through the GreytStore

DONATE

Through PayPal

By Check

Greyhound Adoption League of Texas
3400 Carlisle St, #310
Dallas, TX 75204

Please note Miss Mesa Fund/Viola on your check.