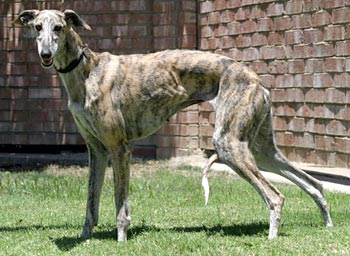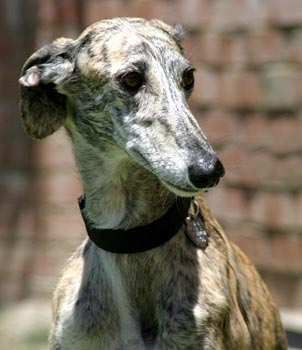 Twiggy is a tiny, approximately 2-year-old brindle greyhound, and the name fits her perfectly! She was found as a stray and picked up by the Amarillo Panhandle Humane Animal Shelter. Twiggy is not tattooed so her age is estimated.
Twiggy's left front leg is bowed out, possibly as the result of previous fracture, which is now healed, or a congential condition (see photo below). She does not appear to be in any pain at all with it, but from time to time will hold it up. She also will lay down with this left leg, as well as the right front leg, curled under as if she is double jointed.
She is a little shy at first around new dogs and a new environment, but will warm up. Twiggy's foster family is working on putting a little weight on her, and she is getting used to home life.
Tiny Twiggy's and the cats: Twiggy showed little or no interest in the cats. Molly, the cat who hisses at most dogs, was not at all concerned about Twiggy either and did not hiss at her. Twiggy followed the cats down the hall but moved on to look at other things then just lay down to rest and watch. Twiggy seems to be cat trainable. As always take care when introducing her to any new kitties and always use a muzzle for precaution.
Also, Twiggy and a Pug got along famously while Twiggy visited in a temporary foster home.