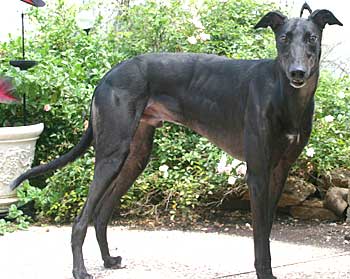 Tucker, aka JR B's Nipntuck, is a handsome black 3-year-old male, born February 4, 2004. His sire is Bart's E Mail and his dam is KL's Cindy Lou. Tucker started his racing career July 24, 2005 at Bluffs Run in Iowa, and ended it February 10, 2007, at Valley Race Park in Harlingen, due to a broken hock.
Tucker, along with Fly, Solomon, and Sue Bee, was flown from VRP to Addison Airport by GALT volunteers and adopters Jane and Michael Scott on February 26. After evaluation by Dr. Jeff Ellis at VCA Preston Park Animal Hospital, Tucker was referred to Dr. Bob Radash of the Surgery Center. Tucker's injuries were to his central tarsal bone and his talus, which appeared, by this time, to have little movement with a lot of calcification. Dr. Radash felt like it would be doing more harm than good to perform surgery at that point. Tucker was kept in a splint for approximately 9 weeks, and it is Dr. Radash's opinion that Tucker's injury will not hinder his quality of life as a companion pet.
Tucker is now recovered completely, and his leg is healed. He is still being leash walked, but only for a short time still. It is not known at this time if Tucker is small animal or cat tolerant.
Tucker has a beautiful, shiny black coat and a sweet, gentle nature. He loves to be with people and is content to be lying in the same room with you.

His broken leg has healed beautifully and he now walks without a limp. He is completely housetrained and crate trained. He actually puts himself in the crate at bedtime and when we get ready to leave the house.

He comes immediately when called or whistled for, but is never clingy. Tucker is completely at ease with being touched while eating and sleeping. He also allows us to trim his nails with a dremel. He never counter-surfs or gets on furniture. He plays with toys occasionally. After all, he is a young, playful boy.

Tucker has a gentle spirit and calm loving nature. He could easily fit into a family with other dogs or be a true individual "companion" dog.

Tucker's foster family