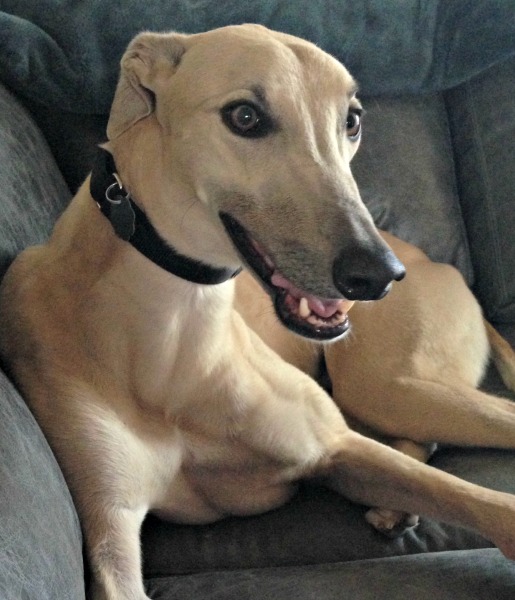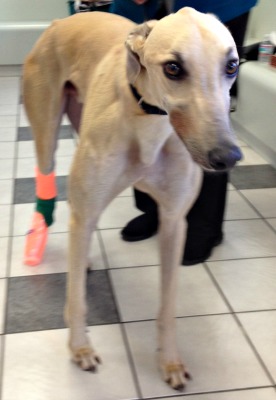 Trigger, aka Atascocita Trig, is a 1½-year-old fawn male born December 27, 2011. His sire is Atascocita Leroy and his dam is Atascocita Gayla. Trigger has 36 races on record from May 26, 2013 to October 25, 2013, all at Gulf Greyhound Park. He suffered a broken calcaneus bone in his leg, and will be scheduled for evaluation and surgery at the Dallas Veterinary Surgical Center.
Trigger has not yet been tested with cats or other small animals.
UPDATE 1/17/14
Trigger had surgery on November 7, 2013, performed by Dr. Bob Radasch of the Dallas Veterinary Surgical Center to implant a nine hole plate with seven screws. He had weekly bandage changes, and the cast was removed on January 7 and x-rays were taken. The bone appears to be healed; however, Trigger will be leash walked only. Dr. Radasch plans to remove the plate and screws in approximately 60 days. During this holding time, Trigger will complete all his medical procedures (neuter, dental etc.).
UPDATE 3/20/14
Trigger was scheduled to have the plate in his leg removed; however, he is displaying absolutely NO discomfort with the leg, is not limping and is using it in a normal fashion. As with all implants with broken legs, the plate may have to be removed at a later date should irritation arise. Trigger is now ready to find his forever home!