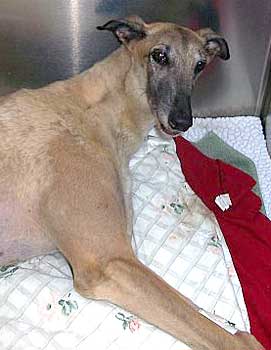 This morning, June 4th, I had the honor of holding a precious, beautiful greyhound in my arms as she slipped gently away to The Rainbow Bridge.
Late yesterday afternoon I received a call from Susie McQuade asking me to go to the Mesquite Shelter and pick up a little female greyhound who was in bad shape, most likely due to being hit by a car. I got to the shelter just as they were closing. Two employeees took me to a small kennel where a light fawn girl was lying in her own urine and vomit. She saw the three of us approaching her, and she wagged her tail! From her raw, scraped lips all the way to her rump she was covered in the typical "road rash" seen when an animal is hit by a car. She had open cuts to her chest, arm pits, and right leg. Her left hind leg was swollen, bruised, and purple. Her left front ankle was swollen. Her eyes were caked with discharge, her ears were filthy and her teeth were brown and decayed. And yet, her tail was wagging! We gently lifted her onto a blanket and into my car. She lay quietly as I rushed to the Dallas Veterniary Surgical Center located in the Lake Ray Hubbard Emergency Pet Care Center. As I pulled into a parking space she lifted her head, looked at me, stretched, and sighed. Her tail wagged.
Once I lifted her from my car to a gurney she tried to sit up but couldn't. The vet x-rayed her hind leg and confirmed that it was broken. An IV was started, and Tawney (as I was now calling her because of her beautiful light blonde fur) was given fluids, antibiotics and, most importantly, pain medicines. She was lifted into a crate lined with soft blankets, finally pain free and safe from the streets.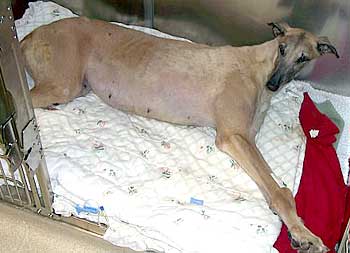 Early this morning I was called by the Clinic's vet. Despite being given large amount of IV fluids (over 3 quarts), Tawney had not urinated at all. Her heartbeat was becoming erratic. The vet said Tawney had a very pinched, drawn look. After speaking with Susie McQuade, I told them I was on my way, and asked that they wait until I arrive and then allow Tawney to go peacefully.
As soon as I got to her crate, she raised her head, looked at me, and wagged her tail. I got into the crate with her and held her while the vet eased her out of this world and into the next.
We will probably never know how her life started and what she had to endure in those 7 years. But I do know that for the last 16 hours of her life, she knew comfort and love. Please hug your loved ones, whether they are 2 or 4 legged. And pray for Tawney at the Bridge and for all the others that never knew what life could be like as a beloved pet.
Lisa Bengelsdorf, June 4, 2006
GALT Foster Mom and Volunteer